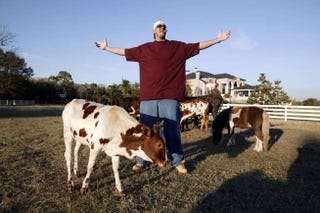 Matt F'in Geiger has a twenty million dollar house? The company that agreed to buy his mansion for $21 million is not following through and now Geiger is suing. If you ever had any doubt that the NBA salary structures are completely out of whack, Matt Geiger is exhibit A. In his ten year NBA career Geiger never averaged more than 13.5 points per game and never averaged more than 8.5 rebounds a game.
Yet now he lives like a feudal lord. Don't believe me. Here's the Tampa Tribune's description of his home,
The sale price for the 28,000-square-foot estate at 3385 Old Keystone Road had been listed at $19.9 million. The facilities, built in 2003, include a swimming pool and spa, a guest house and private tennis courts. The home has three floors and includes a game room, cigar room, theater, sauna room, cabana room and library.

The home was to come furnished, according to the lawsuit. Its master bedroom, for example, had a council table, a sofa, a coffee table, four chairs, three end tables, a sofa bench and a bed. Its game room had two pool tables, three pub tables and 30 leather bar stools.

"It's kind of built for someone when I was in a different stage in my life," Geiger said.
At some point in the millenia to come, after our civilization has long since passed, Geiger's home is going to be excavated and aliens will believe he was our god. Sobering.
NBA retiree calls foul over deal [Tama Tribune]
Matt Geiger, real estate mogul, gets his sue on [Sports by Brooks]