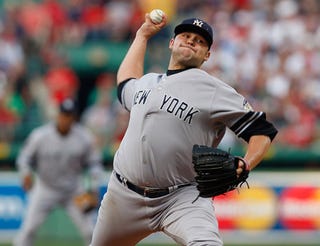 The Yankees came into Boston on a six-game winning streak and in the end Mariano Rivera kept it alive. Joba Chamberlain dominated the Red Sox lineup for seven shutout innings, striking out nine while allowing just three hits. Kyle Farnsworth did his best to fuck things up in the eighth when he gave up a pair of quick hits before being pulled in favor of Rivera. The closer came on for the five-out save, inducing a pop-up from David Ortiz and striking out three batters, including the game's final two. Jason Giambi's infield single produced the game's only run, scoring Bobby Abreu from third base in the third inning off of Josh Beckett.
The Yankees are now three games back in the AL East (2 behind the Red Sox), and now they've filled the two biggest holes on their team. Outfielder Xavier Nady will provide a huge boost to the lineup and Damaso Marte is the perfect addition to keep Farnsworth off the mound. The 33 year-old lefty has never had an ERA over 3.77 in his seven full seasons.
• Dye's Blast Is the Difference. Jermaine Dye's 22nd home run of the year was a two-run shot off of Todd Jones with two outs in the ninth inning. Bobby Jenks shut down the Tigers in the bottom half of the inning, and the Sox escaped with a 6-5 win over the Tigers. Chicago has now won three straight and Ozzie Guillen is starting to run out of reasons to be all pissed off.
• Speaking of the AL Central... The Twins dropped to three and a half games behind the White Sox after losing their fifth game in a row. Minnesota made it close with two ninth inning runs of their own, but they fell short by a score of 5-4. Cliff Lee improved to a preposterous 14-2, the highest win total in the majors. The All-Star starter truly earned the victory striking out 10 in eight innings of two-run ball.