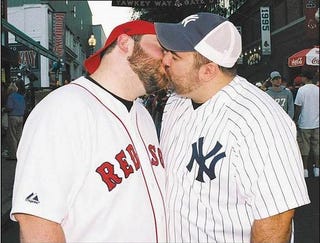 The Yankees and Red Sox are ready to go in Fenway and Joe Buck's pants are tightening in anticipation. New York is rolling through July, having won seven straight after last night's series opening win. Andy Petitte and Tim Wakefield will be on the mound and Manny Ramirez is back in Boston's lineup with David Ortiz.
This is an open thread, so sit back and enjoy the game while bitching about Tim Mccarver. Or if you're one of those millions of people who can't fucking stand another Yankees-Red Sox game click on another post.
Oh, and too the 15% of you out there getting the Phillies-Braves, consider yourselves lucky.
(PHOTO: Boston's Weekly Dig)