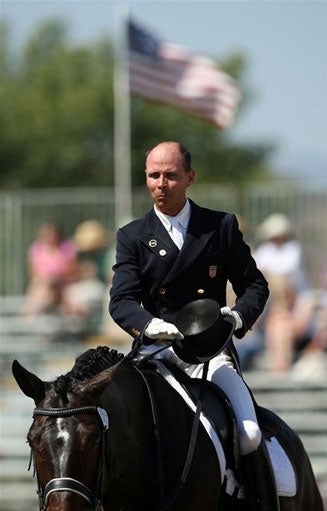 As you might have heard, the Olympics begin on Friday, and, as Bob Costas and NBC will be eager to relentlessly pound into your brain, these are American Olympic Heroes we'll be watching on 12-hour time delays. These are not the run-of-the-mill money-grubbing professional athletes we have become accustomed to; these are people just like us, complicated, yet everyday, folks who have bigger real-world issues to deal with than which Bentley you'll be driven to work in.
These are Real Americans. Their stories will be told repeatedly throughout the next two weeks, in soft focus vignettes emphasizing how they:
a: Grew up poor;
b: Overcame a club foot;
c: Were raised by wolves.
d: Own both male and female reproductive organs. (Mostly Russian expats.)
But just how compelling are these athletes, really? They will be puffed up to Icon Status in the next fortnight, but are they actually interesting? Are they thrilling, flesh-and-blood humans, or are they, like most other athletes we know, simply piano prodigies who can jump, obsessives without any discernible notion of humanity outside running/swimming/shooting faster/stronger/longer?
I thought I'd take a look at Team USA's athletes official bios to get a glimpse of what happens when these athletes stop being polite ... and start getting real. They have real depth, as evidenced by the vivid portrayals from the NBC Olympics site's official biographies. It's news you can use.
Therefore, here are the fascinating tidbits about the best Americans have to offer.
• Badminton player Raju Rai is "everybody's best friend." "He's someone you can go to. You can talk to him about anything," says doubles partner Bob Malaythong.
• Archer Jennifer Nichols can quote one verse from The Bible verbatim.
• Judoist Brian Olson just couldn't have better parents.
• Water polo defender Peter Hudnut enjoys a girl with "a nice smile."
• Canoe star Benn Fraker hates math.
• Cyclist Kristin Armstrong got married.
• Badminton star Mesinee Mangkalakiri enjoys visiting Disneyland.
• Gymnast Kevin Tam will not eat roast beef on away meets.
• Fencer Mariel Zagunis was a cute baby.
• The aunt of skeet shooter Vincent Hancock once baked him a birthday cake with the Olympics rings on it.
• Trampoliner Chris Estrada once had a mental block that prevented him from twisting on forward flipping skills.
• Diver Ariel Rittenhouse likes to dance, jazz, ballet, tap and hip-hop, whatever.
• Swimmer Larsen Jensen enjoys swimming more when he wins.
• Triathlete Matt Reed has two dogs.
• Field hockey player Amy Tran loves chocolate and Johnny Depp. Oh, and Pearl Jam.
• Weighlifter Melanie Roach was once a gymnast.
• Wrestler Andy Hrovat loves thrift store shopping.
• Gymnast Bridget Sloan is waiting to get her drivers license.
• Kayaker Carrie Johnson would like to learn how to surf.
• Beach volleyball player Phil Dalhausser loves playing Nintendo Wii.
• Badminton player Howard Bach played a badminton player in that VitaminWater commercial. It was considered controversial in the badminton community.
• Diver Jevon Tarantino is a roofer; other divers wonder how he has time for everything.
So, yeah: Go America!