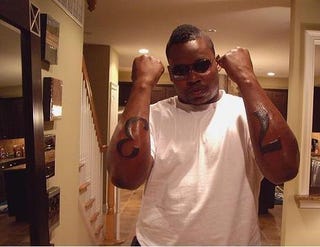 Shawn Andrews has always been a different type of guy. The line on him through most reporters is this: he's got his quirks, but he's a helluva football player and a really decent human being. Often times he's described as child-like (his nickname is the "Big Kid" after all, and he has a room in his house dedicated to SpongeBob SquarePants) which, considering his 6-foot-5 325-pound frame, is funny in its own way. Andrews does have his problems and eccentricities, but they may run a lot deeper than depression — he may also be pathologically full of shit. Andrews has been missing in action at Eagles training camp this season and up until he went public with his battle with depression, his absence was a mystery. On Monday Andrews revealed to the Philadelphia Inquirer and the Daily News that, after ignoring his symptoms for about a year, he finally caved and sought professional help.
"I'm willing to admit that I've been going through a very bad time with depression," the Eagles' two-time Pro Bowl right guard said. "I've finally decided to get professional help. It's not something that blossomed up overnight. I'm on medication, trying to get better."

Andrews didn't want to go into the origins of his depression, which he said began a little more than a year ago and steadily worsened. "I really was kind of at my end," he said. "I've really had a lot on my mind, really (been) contemplating a lot of things."
Andrews' absence at camp is still "unexcused" and he's paying $15,000 a day in fines. So far most of his teammates have publicly supported him, as has the press, because when someone goes public with depression, it's almost inhumane to be skeptical. But in Shawn Andrews' case, it shouldn't be. Andrews, right now, is still in Arkansas seeing his own doctor, but has yet to come back to Philadelphia to be diagnosed by the Eagles physicians. The lovable wackiness and emotional highs and lows in his personality may make this a plausible story — he could very well be clinically depressed — but he also could be a man discontent with his contract (which he supposedly is) whose maturity level hasn't quite caught up to his ballooning weight. For example, last year Andrews had a sprained ankle injury that for whatever reason became potentially, bizarrely "career threatening" based on his doctor's diagnosis and what he told the press. Even though the Eagles personal physicians gave Andrews a relatively clean bill of health on the ankle, this is what Andrews told a befuddled pack of reporters:
• "When the doctor said what he said to me about different situations, it was a tearjerker. Sometimes things happen when you have a 300-pound body on a leg that's been broken. It's tough. ... Pain's not the issue. It's out of my hands. It's out of my doctor's hands."
• "I don't know what the future holds."
• "Just pray for me if you care about me."
One Eagles writer anonymously summed up that incident this way: "I would never say this publicly, because I'm not sure it's what I believe, but I think most teammates felt he was being a bit of a drama queen, seeking attention. He [Andrews] said afterward he'd been kidding, but I really don't think he was. He is an impulsive, child-like person, really a good guy, I think, with issues that might go beyond depression."
In fact, when word of Andrews' holdout first spread through camp, Jon Runyan, the Eagles' press-friendly right tackle, gave a curt, almost eye-rolling response that Shawn just needed to get into camp. Sal Paolantonio of ESPN, who's covered the Eagles extensively throughout his career, agrees that the Eagles are playing the Andrews situation properly so far, even if it seems a little heartless given this recent revelation. "They have the right to be skeptical until he comes in and gets diagnosed by their doctors."
What also makes this Andrews story a bit suspicious is how open he's being about it. On the surface, it's a brave step to take — a big, burly lineman publicly admitting that he's got some issues that need to be dealt with — but his approach seems very calculated. Andrews isn't just reaching out to one local reporter he feels comfortable with — he's talking to EVERYONE about his problems, including sports radio and television. Yesterday on WIP sports talk, Andrews said this:
"I definitely am doing a lot better than where I was even a week or two ago, because I was at the end of the road I felt like," he said. "I felt like I needed to talk to someone before things got out of hand. I had some horrible thoughts on my mind. But just when I was thinking those bad things a picture of my son came through and it was like he was looking me and questioning, "Why daddy?' And that just tore me up."
And the origins of his depression also appear to be all over the map: from his weight, to his friend's death, to having guns pulled on him.
It'll be interesting to see which issue gets resolved first — Andrews' contract troubles or his "depression." Just remember that Shawn Andrews isn't tough: He needs your prayers. He wants your attention. He's hurting inside. Believe that — but also consider the source.

Reid reached out to Andrews [PhillyBurbs]
Eagles' Andrews reveals his struggles with depression [Philly.com]
Andrews Does The Philly Media Rounds [The 700 Level]