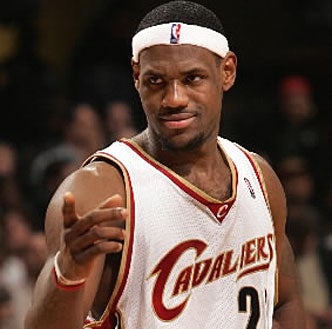 $50 million just so happens to be about $30 million more than any NBA team can pay under the salary cap. That sound you just heard is the NBA brass trying to figure out if they need some sort of superstar carve out in the salary cap structure. Either that or getting a capless division set up in Europe. But surely, LeBron's just bluffing, right?
Maybe. But according to ESPN.com, there have already been contacts between LeBron and at least two European teams.
The Russian team CSKA Moscow and the Greek team Olympiacos, which recently gave Josh Childress a contract approaching $30 million over three years, have already contacted James, according to the person close to him. The person added, however, that no monetary or contractual discussions have taken place.
LeBron's contract doesn't run out until 2009-2010, and up until now there's been mostly speculation about which American city he'll leave Cleveland for. But LeBron considers himself a global icon and nothing would increase the Q-rating better than going overseas, making more money, and then coming back to America. He's got time on his side. LeBron won't even be 30 until December 30, 2014. And with the way the dollar is plummeting against the Euro, by 2010, $50 million may be well within reach.
Source: LeBron would consider European offer of $50M a year or more [ESPN.com]