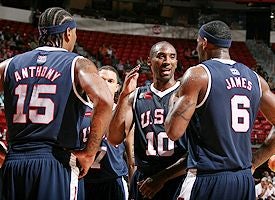 Is Team USA doomed? Should an 87-76 win over Australia on Tuesday in the final tuneup before official Olympic competition be considered a good thing, or a harbinger of doom? Is this shaping up to be a debacle like 2004, when we could only manage a bronze? When Argentina asks you how their ass taste, you know it's time to refocus. But the grumbling coming out of Beijing indicates that may not be happening.
The U.S. shouldn't have too much trouble with China in its opener on Sunday, and then comes mighty Angola (um, we should win). Then comes Greece and FIBA world champion Spain, both of which could quite possibly beat Dream Team II, if Tuesday was any indication.
Kelly Dwyer at Yahoo Sports:
This team (and I'm looking at you, Carmelo) just turns its head too much. These guys aren't used to watching for back-picks and defending cuts to the front of the hoop. Back-door screens still kill Team USA, and though the men still have the athleticism to recover and sometimes make up for it, Coach K's crew is still getting beat way too much by teams using Team USA's pressure against itself.
ESPN's Chris Sheridan puts it this way:
The truly stunning thing about the Americans' 87-76 victory was that it came against an Australian team that didn't even have its best player, since Andrew Bogut sat out to rest a sprained right ankle. The Boomers, as they're known Down Under, are setting their sights merely on making it into the medal round, with no illusions about where they stand in the worldwide pecking order — somewhere between sixth and eighth, nowhere near the likes of Spain, Argentina and Greece, the three teams who will wake up Wednesday morning with a heightened sense of hope after seeing how the U.S. team struggled in its final pre-Olympic tune-up.
In addition to terrible defense, USA shot only 16 percent from the 3-point line (3-of-18), and outrebounded Australia only 33-27. That's a recipe for disaster, my friends. It's hard to believe that America hasn't won a gold medal in Olympic or World FIBA competition in eight years; and even that 2000 gold medal came after a two-point win over Lithuania in the semis (after Lithuania's Šarūnas Jasikevičius missed a 3-pointer at the buzzer that would have won the game).
Solution? Parents, get your kids out of those freaking stupid AAU leagues and tournaments, and find a good defensive coach who'll teach footwork and defending the back cut.
Behind The Box Score: Where Team USA Needs To Turn Its Head [Yahoo Sports]
Team USA's F;aws Exposed In Ugly Win Over Australia [ESPN]