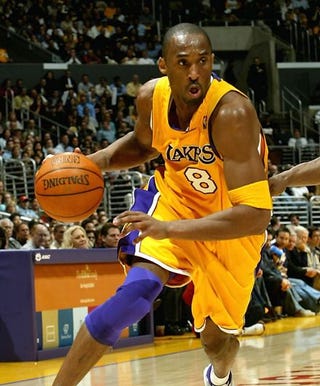 Not content to allow LeBron James to sweep up all the attention for his leaked interest in going overseas for $50 million, Kobe Bryant stepped into the fray yesterday from Beijing. Telling The Boston Globe that he'd go to Italy for $50 million a year. You know, sooner or later the NBA brass might have to acknowledge that Europe is a legit threat to their league. Or maybe they'll claim that Bryant was misquoted. Kind of hard when you see this quote:
"I'd go. I'd probably go," said Bryant, during a USA Basketball press conference on Friday morning. "Like Milan or something like that, where I grew up or something like that… Peace out."
Peace out? That's the kind of lingo that still kills in Italy. That and jeans that don't reach your ankles. Recall that Bryant spent much of his childhood living in Italy and speaks the language fluently. He also owns 50% of an Italian team. Is there finally a legit threat to the NBA salary cap?

Kobe to Italy [Boston Globe]
NBA's Worst Fears Realized: Kobe Would Leave to Play in Italy for $50 Million a Year [The Big Lead]