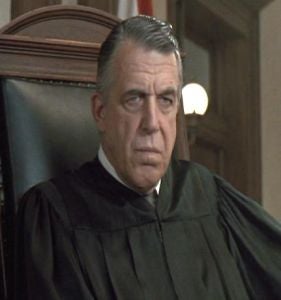 A New Jersey State Supreme Court Justice is being sued for allegedly using his title to intimidate school officials following a dispute between his son and one of his former high school football teammates at Haddonfield Memorial High School . The suit, filed by Conor Larkin, claims that Justice Roberto Rivera-Soto made inappropriate phone calls to the school, the police and the courts after Larkin and the judge's son traded jabs at a team practice.
Last September, according to the committee's complaint, the justice's son said [a football teammate] had hit him. The school warned the senior but took no further action....

Then, on Sept. 28, the justice's son said that the senior had head-butted him during a touch football game. The vice principal said it was an accident. Justice Rivera-Soto warned school officials that if they did not act, he would go to the state police and file a criminal complaint naming the officials.

Later that evening, the justice called Richard Tsonis, the Haddonfield police chief, who sent a detective to his home. Justice Rivera-Soto gave the detective his Supreme Court business card, according to the committee's complaint. The justice later signed a criminal complaint of assault against the senior.

The next morning, the justice called the vice principal, demanded action against the senior and again identified himself as a justice.

Later that day, the justice telephoned Judge Francis J. Orlando Jr. of Camden County Superior Court, advising him of his complaint, the committee said. He also called James P. Lynch, the county's acting prosecutor.
What a douchebag. This isn't the first time a parent has gotten involved in their children's on field battles. Remember this guy? It's probably the first time it was a State Supreme Court Justice. The lawsuit seeks unspecified monetary damages. I think a million trillion gazillion dollars sounds about fair.