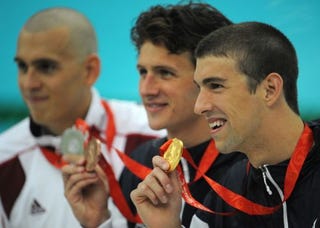 Sunday has already come and gone in Beijing and our Sunday's just getting started. What a bunch of underachievers. With the second day of competition behind us, we have some new medalists, additional qualifiers, and another new world record. Go tune in to NBC right now. The U.S. basketball team will be taking on Yao Ming and the Chinese team in a few minutes. I'll be keeping you posted on the game as it progresses. Go now! No, wait. Read the rest of this post, then go.
• Michael Phelps shattered his previous record and set a new world record with his gold medal performance in the men's 400-meter individual medley. Phelps' teammate Ryan Lochte kept the race tight through the breaststroke before Phelps broke it open. Lochte took bronze while Laszlo Cseh of Hungary took Silver. The only glitch happened during the podium ceremony when the U.S. National Anthem cut out after "land of the free". I guess the Chinese don't think we're very brave.
• Stephanie Rice beat the best in her field to take gold in the women's 400-meter individual medley. Clearly posing for FHM helped. Zimbabwe's Kiristy Coventry took silver while Katie Hoff of the U.S. settled for bronze. Hoff has four more individual races to get it right.
• Dara Torres, the 41 year old mom, helped the U.S. take silver in the women's 4x100 free relay. The Netherlands took gold, Australia took bronze and Torres took lots of advil and a nap.
• Misty May-Treanor and Kerri Walsh started out as expected with a win over Japan. The U.S. favorites haven't lost a match in 2008. Here's hoping that this wasn't the touch of death.
The U.S. and China are currently tied at 8 medals each, although China is kicking our ass in gold with 6 to our 2.