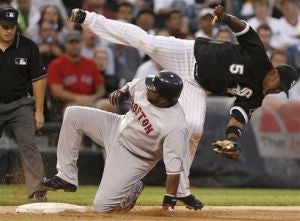 It was the Sox Bowl Part II as the Red ones took on the White ones. And you know what happens when you put Red Sox in the mix with White Sox (besides all your shit turning pink). You get some pretty good baseball. Big Papi busted his slump with a three-rub double off the wall in Boston's 6-2 win over Chicago and helped topple the White Sox from first place in AL Central division. The unintentional comedy came when Ortiz thought his shot went yard:
"Oh yeah, oh yeah," said Ortiz. "Papi knows when the ball is gone, but I guess Mother Nature doesn't want me to hit it out tonight. The wind was blowing really hard tonight."
White Sox pitcher Contreras fell to the ground in the second inning after attempting to cover first. The official word is that he's out for nine months. Dice-K got his 13th win of the season while Boone Logan took the loss and probably a ticket back to the minors. The series stands split with the rubber match later today.
• Astros' longballer Carlos Lee is out 6-8 weeks after getting hit by a pitch in Houston's 3-1 win over Cincinnati. Lee has 28 home runs this season and leads the league in RBI's with 100. Lee is on the 15 day for now with a broken pinky.
• The Twins have found themselves in first place, following an outstanding outing by Liriano and a late game offensive surge by the Twins. Their 7-3 win over the Royals included a 5 run sixth inning following a two run homer by Delmon Young in the second. The Twins were able to take first place in the division after the White Sox loss to Boston.
• Things turned ugly when Phillies manager Charlie Manuel headed out to the mound to pull Brett Myers from the game. After having words on the field, the two continued to quarrel nose to nose in the dugout. Myers had a stellar game before that, allowing only one run and five hits in just over seven innings. The Phillies went on to win 4-2 and Manuel and Myers kissed and made up after the game.