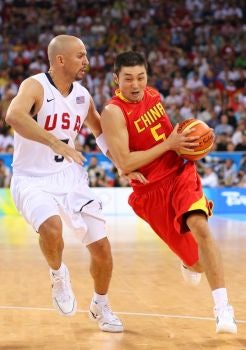 Over 1 billion people are expected to be tuning in to the USA/China matchup in progress in Beijing. In attendance are both Bush generations, the Chinese Prime Minister, and Henry Kissinger who appears to be sleeping in the stands. China has a big three that towers over the US team (Yao Ming stands at 7'6", teammates Wang Zhizhi and Yi Jianlian at an even 7'), but the U.S. is making up for it with strength and speed. Watching the respective game strategies, it's clear that the U.S. is adjusting to their opponent's style of play and it's making for some awkward shots and steals on both ends. But as they settle into their groove, both teams are looking rather pretty. Who knew they had that many tall people in China?
The crowd was amped as Yao Ming got things started with an explosive three. The three point line in the Olympics is three feet closer than in the NBA, which is nice. Dwight Howard's dunk got things started for the US before the Chinese dropped two more threes. The pace of the game is definitely set at quick.
The US went up 28-32 early in the second quarter, but China kept it together with some more threes. With two minutes to go in the first half, it became the LeBron show with the US on a 16-3 run, putting them ahead of China by 11. China started to panic and put up some really sloppy shots. With a lot of passing and quick runs, the US is wearing their opponents out.
One half down and no sign of a LeBron flop. It's apparent that while the Chinese are great in the paint, their perimeter defense is severely lacking. They also lack depth, which puts them at risk for fading in the second half. The US ends the first half up 49-37. LeBron is leading the U.S. team, shooting 5-8 from the field with 11 points and 4 rebounds.
Feel free to turn this into a live thread throughout the second half. I'll be back with a wrap-up after the game.