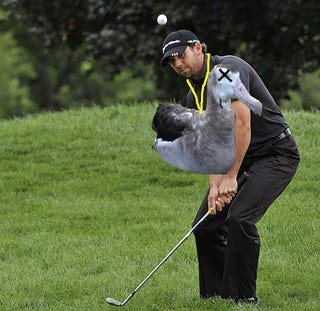 Padraig Harrington had just given Sergio Garcia the lead in the PGA Championship with just four holes to play when he bogeyed number 14 at Oakland Hills. It took exactly two holes for Garcia to return the favor in kind when he inexplicably went after the tightest pin on the golf course with his approach into 16. His ball found the grass for about a tenth of a second before it popped into into the watery depths, and now we sit with three men (Ben Curtis) tied at -2 with the final two groups nearing the final scheduled hole of the championship. Continue after the jump for updates...
Holy crap, this has been some crazy golf, if in fact you believe that golf can ever be classified as such. Sergio and Paddy have alternated between brilliant and befuddled, while Curtis, the only man who can keep the Euro's 77-year tournament winless streak alive, has remained equal one hole behind.
What an incredible trip down the 18th hole for the tournaments penultimate pairing. After picking up a birdie on the par 3 17th Paddy's layup attempt on found deep rough, but the ball sat up, albeit against the thick grain. However Sergio also struggled with the course's toughest hole, leaving himself with an awkward second shot on the bank of a fairway bunker. His approach found the bunker, and Harrington put himself in a position to win with a par. When the pressure was on, Harrington nailed another crucial putt to at least assure himself of a playoff if Curtis could somehow hole out.
Needless to say, Sergio missed his par putt and everybody had a fun little flashback to the '07 British Open. You know, the one where Sergio totally fucking blew it. No not that one, the other one. Yeah, that's the one.
Honestly, I was kind of hoping Sergio would finally get off the schneid when it comes to the majors, but it looks like Harrington will win his second in a row after successfully defending that Open title. Players like Paddy show exactly why golf doesn't always need Tiger for thrilling fan-friendly competition, but the galleries were a bit sparse.
And it's officially over for Ben Curtis, leaving Padraig Harrington the winner of his third major. Just don't tell this guy...
Players to Watch: I'll tell you who's not going to win it…Paddy Harrington. Why? Because he's not really THAT good, how's that for starters? Sure, he's a multiple major champion and a genuinely cool dude... but he doesn't have the overall game of other Euro's like Sergio and Lee Westwood.
Dagger.
In all seriousness, and fairness to Sergio, he is a hell of a golfer who will win that major one day. In the meantime, he remains the best player in the world without one.
Bad MS Paint by Flubby