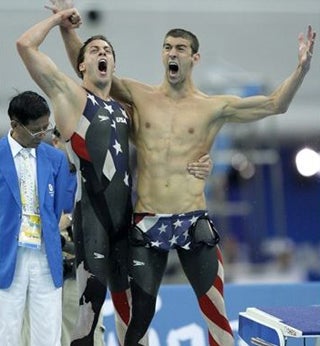 There's no better motivation for an American in the Olympics than Frenchy getting in your face and predicting victory. "I will let you go, Ricky. But first, I want you to say ... 'I love crepes.' " Jason Lezak outsprinted Alain Bernard of France in the anchor leg as the U.S. men — Michael Phelps, Garrett Weber-Gale, Cullen Jones and Lezak — won the 4x100m free relay, setting a world record with a time of 3:08.24. Phelps and Weber-Gale are pictured here showing restrained happiness as Lezak touched just ahead of Bernard.
With history about to slip away and Michael Phelps cheering him on, Jason Lezak pulled up next to the lane rope and set out after hulking Alain Bernard, like a NASCAR driver drafting down the backstretch at Daytona. Only 25 meters to go, half the length of the pool. Every stroke brought Lezak a little closer, a little closer, a little closer, his body seemingly carried along by the Frenchman's massive wake. The two lunged for the wall together. When the result flashed on the board, Phelps was still on course for his record eight gold medals.

The French star was extremely confident about his team's chances heading into the big showdown. "The Americans? We're going to smash them," Bernard said. "That's what we came here for."
Australia finished third. The top five finishers all broke the world record, which means that Italy and Sweden — which finished fourth and fifth — broke the world record but didn't even medal. Phelps swam the lead-off leg for the Americans.
Lezak's Classic Finish Delivers Gold [NBCSports]