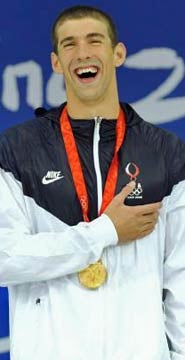 It seems impossible that Michael Phelps will actually win 8 gold medals, but it's a nice thought. If he doesn't win 8, is Phelps' run at Beijing an epic failure? What if he wins 7? Or even 6? No Wheaties box for you, buddy. Jason Lezak helped him out last night, but tonight it's the 200 freestyle final. He's favored to win, but it's almost more interesting to watch to see if he'll lose at this point. If he does not win tonight (UPDATE: He does. Of course.) (or at any point during the rest of the Games) Mark Spitz's facial expresions will most likely be as equally animated as Phelps and Lezak's were last night. The reason the IOC didn't extend an invitation to Spitz is probably because they figured he'd be just the annoying underminer, conducting interviews for the sole purpose of extending his legend just one more year. Even in sports he didn't compete in.
Be well tonight and sorry for the glitches again today, especially during Sussman's spirited live-blog extravaganza. Hopefully, all of that stuff will get worked out. Eventually.
Anyway...the usual sign-off.
'Til tomorrow.
NBC Seeks Green From Phelps Gold [LA Times]