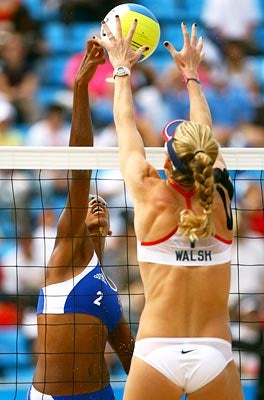 Highlights from your Olympic Games, including chicks in bikinis, the state-of-the-art Phelps Tracker, and pixie-like gymnasts ... Michael Phelps this. Michael Phelps that. What, no love for Kerri Walsh and Misty May-Treanor, possibly the most dominating force in the Olympics this decade? The Americans clobbered Cuba on Tuesday in straight sets to all but assure hem a spot in the medal round, and really, was there any doubt? The only crisis the pair is likely to encounter in Beijing has already been resolved; the loss of Walsh's wedding ring. Relax everyone, it's been found. Bush was on his hands and knees with a flashlight all the previous evening combing the sand.
Walsh and May-Treanor, the gold medalists in Athens, beat Dalixia Fernandez Grasset and Tamara Larrea 21-15, 21-16 for their 103rd consecutive victory. The Cubans, ninth-place finishers in both Athens and Sydney, fell to 1-1.
Walsh is married to fellow pro Casey Jennings.
"I didn't know I was superstitious about it until I lost it," said Walsh, who had already called her husband and asked him to have another made so he can bring it to China when he comes out on Thursday.
May-Treanor, who is married to Florida Marlins catcher Matt Treanor, does not wear a ring when she plays.
But anyway, you still gotta like Brazil (possibly NSFW).
• Phelps Wins Gold No. 3. Ho Hum. Michael Phelps took gold in the 200-meter freestyle, lowering his own world record at 1 minute 42.96 seconds. That makes him three-for-three, and brings him to nine Olympic golds in his career; tying him with three others for most ever. Check in on the Phelps Tracker for further details.
• U.S. Men Are Sprightly, Fabulous. The U.S. men's gymnastics team started strong, faded and had to settle for bronze, but that's it's best result in years, so it's all cool. China won with 286.125, Japan was second with 278.875 and the U.S. slipped past Germany 275.850 to 274.600. "Hogannnn!" Raj Bhavsar, the alternate who took injured Paul Hamm's spot on the team, got the team off to a solid start on rings with a score of 15.325, equaling his score in Saturday's qualifying. He followed on vault with a 16.125, just slightly off his qualifying score of (16.175). On parallel bars, his score of 15.575 slipped only slightly (15.625). Jonathan Horton scored four of the best team scores in five events. In the first three events, he posted the team's best show on rings (15.625) and vault (16.20) and second best score on parallel bars (15.625).
• Pull! Glenn Eller, a 26-year-old from Katy, Texas, who attended Auburn, set an Olympic record, hitting 190 of 200 clay targets on his way to winning the gold in men's double trap competition. Good shootin', Tex.
• Empowered Women. No one can touch us in softball either, by the way. The U.S. began its bid for a fourth straight gold medal with an 11-0 win over Venezuela, setting an Olympic record for runs scored in a game. Jennie Finch threw four no-hit innings and Caitlin Lowe had an inside-the-park homer as the U.S. won its 15th straight Olympic game and dispatched the Venezuelans in five innings due to the run-difference rule. Venezuela now must give us half of their oil, per the pre-game bet.
• More Swim Gold. Aaron Peirsol won the men's 100-meter backstroke, defending his title with a world-record time of 52.54 seconds, lowering his old mark of 52.89 set at last month's U.S. trials. Teammate Matt Grevers earned the silver in 53.11, added to the gold he won for swimming the preliminaries of the 400 free relay. In the women's 100 back, Natalie Coughlin of the United States became the first woman to ever defend her title in the event, winning with an American record of 58.96.
• Take That, New Zealand. The American women scored the fastest goal in Olympic soccer history (40 seconds), for those keeping track of stuff like that. Final: U.S. 4, New Zealand 0. We're on to the quarterfinals.