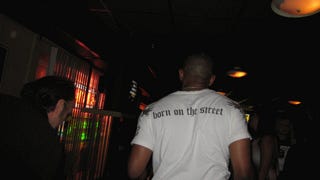 Fresh off this year's Jimmy V Classic post-event celebration in Raleigh, N.C, Stu Scott and some other famous, not-so-famous and ubiquitous "celebrities" sauntered out into the night for a karaoke croon-fest like no other. Scott was the star, though, unleashing a set of pipes that show why he's destined for poetry jam defness. Video goodness after the jump.
And what was his song of choice? Why "I'll Be" by Edwin McCain, of course. You know: "I'll be your crying shoulder, I'll be love's suicide" Dave's Football Blog was there once again this year and scored all the ridiculous photos of ESPN karaoke revelry. And, of course, Mr. Belding was there.
Watch Stu Scott make the white girls scream.
Stuart Scott sings the hits [Dave's Football Blog]