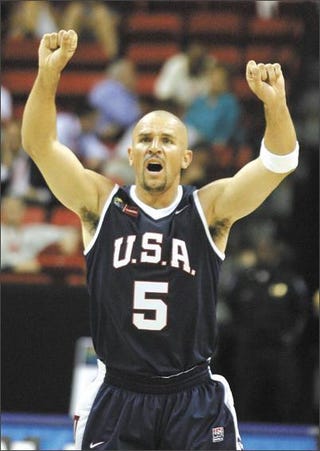 The NBA's love affair with China—and vice-versa—has been well chronicled by the national media. But in the wake of the Spanish team posing with slant-eyes or slit-eyes (I'm still not sure why there are two names for this), NBA players are starting to take note that the NBA is much quicker to penalize American players for their actions than they are foreign ones. At least that's what Jason Kidd told Yahoo Sports.
"We would've been already thrown out of the Olympics," he told Yahoo! Sports. "At least, we wouldn't have been able to come back to the U.S. …There would be suspensions." And for his European peers, well, Kidd suggested, "They won't do anything to them. It's a double standard."
Think Jason Kidd is the only person associated with the NBA who believes there's a two-tier system at work here? Well, at least one NBA GM agrees. "The simple question is, 'Would Stern and the league hold the American players accountable?' And I think the answer to that is yes...So why wouldn't he hold the 'other' NBA players accountable – unless the rules only apply to the American players." Because in David Stern's globalized NBA it's not just Americans who his players have to avoid offending.