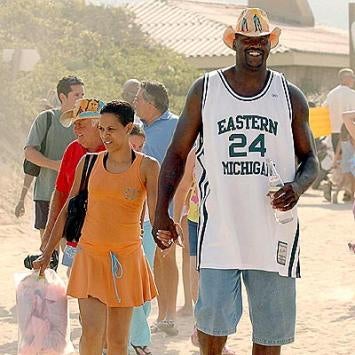 A couple months ago, Shaq was in New York jokingly (but bitterly) freestyle rapping about Kobe Bryant, asking his former teammate to comment on the savoriness of his gluteus maximus. The source of Shaq's ire was apparently revealed in the freestylin' line: "I'm a horse, Kobe ratted me out, that's why I'm getting divorced." Well, maybe the Big Angry can finally turn that frown upside down and forgive the Mamba/Doberman/Whatever: He and his wife Shaunie have called off their divorce.Why the change of heart? This is how still-Mrs. Shaq put it:
"Neither one of us could probably answer why we were getting one in the first place. Things have been going so great, that someone actually had to remind us that 'Hey, you do remember those papers are still there.' Literally, it was days ago. So, we've agreed that before we leave Florida in a few days we'll make sure that that's gone away."
Well, Shaq spelled out the "why" quite colorfully, both in his anti-Kobe rap and the divorce petition, which stated: "The marriage between the parties is irretrievably broken," and that Shaunie was "secretive about her assets...particularly with respect to certain properties owned or titled in either [her] name alone or in other entities." But whatever. Nothing, apparently, is stronger than the large amounts of money they would have to split up between them love. Now, I'm sure this is just a coincidence, but Shaunie is preparing to launch her own video-sharing Web site, which is intended to showcase children and their talents, providing families a kid-friendly (and fun!) place to upload and share videos. I can't wait!