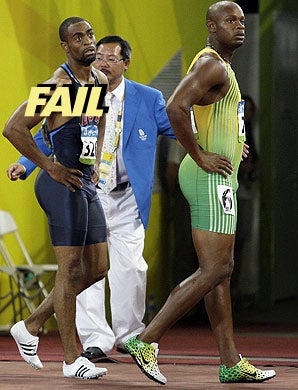 By now you've almost certainly realized that American sprinter and butt-end of sophomoric humor (hehe, butt) Tyson Gay didn't even qualify for the final in the 100-meter (328 feet) dash, which was won in record-breaking fashion by Jamaica's Usain Bolt. Two great last names, each respectively illustrating the thrill of victory and the agony of anal.
Starting in the outside lane, Gay got a good jump from the blocks and was in the mix early in the race, but he never showed any burst, was overtaken by Powell and Richard Thompson and was beaten to the line by American Darvis Patton. Gay finished in 10.05 seconds, .02 second behind Patton.
"Finished behind"...fantastic. The Jamaican Bolt broke his own world record in the final this morning with a time of 9.69 seconds. Hehe, sixty-nine. Reminds me of that joke that ends, "Welcome To Jamaica, Have A Nice Day." Hey, that bit kills at recess.