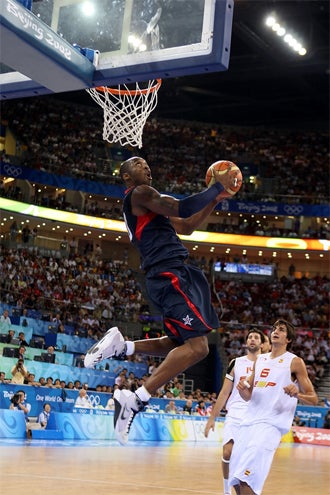 The United States' And 1 Mix Tape Tour quest for their first gold medal in basketball in eight years claimed another victim this morning. America shot 12-of-25 from behind the freaking arc as Spain was blown out, 119-82. Eight Americans scored in double-digits as Spain was held to just 39 percent shooting from the field.
"It was something for us personally to say, 'Where do we measure up with the champions?" Kobe Bryant said. "And this was a big game for us." And how did the U.S. measure up? "Pretty damn well," Bryant said.
Kobe then embraced his wife and children for the cameras as soft piano music played in the background. Oh, wait. I don't think they're in Beijing. Too bad for Kobe, being away from his family that long. Are there any ski resorts in Beijing? The men have one more game in pool play against Germany, which is now meaningless, and then they proceed to the medal round. If they win their next three after that, the Redeem Team will win the gold.
Brady: DOOD KAN U B-LEEV IT ??? WE COULD WIN GOLD N BSKTBALL!!!!111!! Michael: YAH UR HUUPS TEEM IZ GUUD Brady: YAH BRO SO WEN WE GUNNA GET 2GETHER? Michael: WAT U MEAN? Brady: WATEVR DOOD Y U JOCKIN ME??? Michael: HNG ON BRO I'M PLAYIN TETRIS OVR HERE Brady: WELL HRRY UP U.S. Men's Hoops Hammers Spain [SI.com]