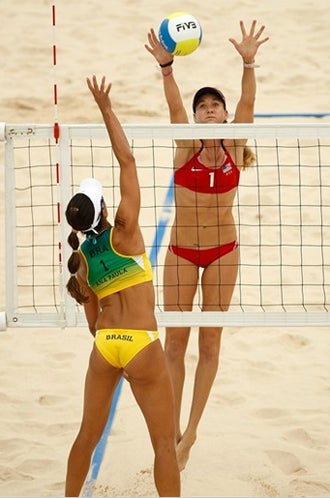 Beach volleyball speaks to me about the innovative nature of America. Here we have a spinoff sport, where two people are doing the same work originally done by six, and doing it on arguably the slowest surface one could find in any sport. And the juggernaut that is Misty May-Treanor and Kerri Walsh has plowed through this new sport so ruthlessly that the IOC is thinking about removing it from the Olympics altogether. Their latest conquest came at the expense of Brazil, as the Americans advanced to the semi-final.
Ana Paula and Larissa, 26, lost the first set in each of their three preliminary matches, ultimately coming back to win two of them. They finally clicked in the round of 16, cruising by a tough German team in straight sets, but their first-set woes continued Sunday against May-Treanor and Walsh. And very few duos come back on a team that's now won 106 consecutive matches.
America advances to the semis after surviving a scare against Belgium, and now having ousted what was expected to be their toughest competition. I can't wait until volleyball becomes a one-on-one sport. Think of all the medals we'll win then!