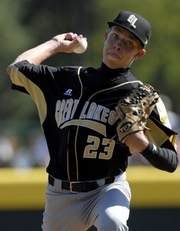 I'm wholly in favor of anything that humiliates children. Kids today need as much character as they can get in this bubble-wrapped nation of ours. And nothing builds character like getting one's prepubescent heart ripped out on national television. Just ask Jeffersonville, Indiana's Drew Ellis, who threw a no-hitter, but still gave up three runs to cost his team the game.
Maryland scored in the first off a walk and an error, and got two runs in the fifth off a hit batsman, a walk and four wild pitches...Ellis hit Nick Karlen with a pitch and walked Brady Hornbecker to start the Maryland rally in the fifth. He struck out the next two hitters, but the wild pitches allowed Karlen and pinch-runner Mark Grunberg to score, making it 3-2 and delighting their raucous fans.
Ellis struck out 11 on the day. But it sounds like they coulda taken the kid out in that spot. What about that, skip?
[Drew's] father, manager Derek Ellis, said his team would bounce back. "It's baseball, it's not life or death,'' he said. "So we lost one, big deal.''
Thanks, Dad. No big deal. Why should I care about the team's trip. My kid got to pitch the whole game! Let him drive the team bus while you're at it. Well, wait, that might be an actual life or death scenario. Never mind. Indiana Pitcher Gets No-Hitter But Loses At LLWS [SI.com]