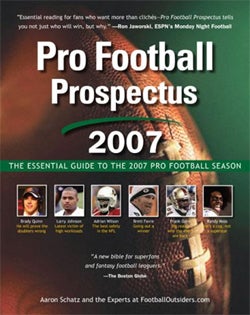 If you've ever read the FootballOutsiders annual tome, Pro Football Prospectus, then you know what they're all about. Their statistical, sabremetric-ish approach to a very complex game comes up with some interesting findings. But it's time to call a spade a spade, especially when it comes to America's Favorite White Receiver (with apologies to Kevin Curtis). In case you forgot, Welker went to the Patriots in time for the 2007 season for draft picks from Miami. And PFP was quite critical of New England's newest acquisition:
Here's an important lesson to learn: Sometimes, players can be useful, but not worth devoting real resources to. Welker's a helpful player, [but] who does he remind you of? Right, Troy Brown, the player he's replacing on the Patriots. [They] have something else in common: The former was an eighth-round pick, the latter undrafted. That's because their skill set isn't a difficult one to find. Projected stats: 51 catches, 684 yards, 5 TDs
Ouch! Let me check with the Argentine judge there...yeah, that's a burn. Welker responded the way that most white people do, with a little pouting and a lot of productivity. He caught 112 balls which led the fucking league, scored 8 TDs (15th best in the league) and accounted for 1175 passing yards (11th best). How many times did Troy Brown crack the 1,000-yard mark in a season? One fucking time (2001), and he wasn't playing next to Randy Moss, either. But having said that, I still recommend the 2008 edition. They're almost always on target, though they still need to work on their "deceptive speed" variable.