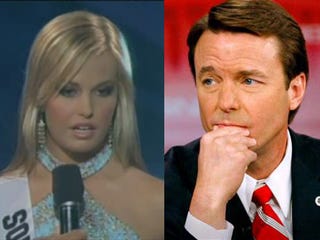 Enough of your waiting, young stallion. The Pack of Wolves are visiting the Game of Cocks. To christen the season on TV, ESPN's Chris Fowler, Craig James and Jesse Palmer are behind the mic. Erin Andrews is behind the sidelines with a different mic — one that gets way more pageviews than a regular mic. Other games, if they earned it, will get mentioned too. Cambot. Gypsy. Tom Servo. Juuuuuuuuuump! * * *Fourth Quarter 11:14 — Fin. Ouch, what a painful finish, although it was at least fun to watch some of those 11th hour touch-em-downs. Thanks for sticking to the gritty end, everyone. And if you feel asleep for 20 minutes, then I'll condone it. 11:12 — The Wolfpack have set forth the surrender formation. They're just running up the middle and ending this thing. One might wonder why they wouldn't go for one last shot at a touchdown, but as we've seen, they haven't carved up a play for that yet. 11:10 — If NC State just kneels out from here, they might be able to avoid a 41-0 score. 11:09 — Craig James is now convinced, with that one touchdown, that maybe Smelley and not Beecher ought to be the quarterback. The oddest events convince the deftest of analysts. 11:07 — Hey, NC State? Does it hurt yet? I see. It's quite painful. Well, then you won't mind if yet one more collective dicktwist is added to the physical and emotional psyche. Smelley tosses one to Jared Cook for a score. 0
3411:04 — Oh, Steve Spurrier isn't letting up. A deep pass play puts the Gamecocks in opposing territory again. 11:03 — And now we're getting into some bingo markin's off. Tim Tebow possibly winning another Heisman? About damn time. 11:02 — Did Beck just throw three incomplete passes in one snap? That's how fast it seemed. We're down to six minutes. 11:01 — The new NC State quarterback is Harrison Beck. Chris Fowler labels him as "chunky." Indeed, he is filled with peanuts and not all kids prefer him to smoother quarterbacks. (!?) 10:56 — Taylor Rank was given a few red zone carries and finishes off the drive, and probably the game. Let's see how tangential Fowler/James/Palmer can get in the final seven minutes. 0
2710:54 — This isn't going to get closer anytime soon. Mike Davis bursts for a 50-yard run. 10:50 — And again, Evans executed great mechanics for a quarterback, stepped up ... and threw an interception. Just 9:15 left. (The refs look at it one more time, because it was just that awesome of an intercept, and verbally confirm the awesomeness.) 10:49 — A desperate-looking throw for NC State yields their longest offensive play of the night. There's your problem. Evans as just too composed all game to execute quality passes. 10:45 — A slightly foul-sounding quarterback-to-wideout combination. Smelley to LeCorn. I am officially 11 years old. Boogers. 0
2010:43 — Meanwhile, SC keeps kicking down doors and gathering first downs against the Wolfpack, who appear content in contending for fifth in the ACC Atlantic. 10:40 — Russell Wilson looks to have a concussion and nothing worse. So, no need for the home pregnancy test. 10:38 — Because the booth broadcasters cannot doze off, the topic is now Ana Ivanovic losing in the U.S. Open, and whether or not one's interest in tennis is correlated to one's manliness. Considering Rafael Nadal marinates in his own testosterone during Grand Slam finals, I think we know the answer to that one. 10:35 — The quarterbacks might need an extra layer of bubble wrap. Tommy Beecher is going to sit some of the plays out while Chris Smelley comes in and ... also gets hit. It's almost as if this thing's a contact sport. 10:30 — There are crucial third downs, and then there are those. The NC State snap splits the quarterback and tailback, and that ball will bounce and skitter about 20 yards the wrong way. Third Quarter 10:28 — So I kind of fell asleep there. That should tell you how mesmerizing the action is. It appears there was a three-point field goal achieved somehow. I'm so proud of them. 0
1310:09 — Take a wild guess. Yep, NC State couldn't do much with the drive. Punt it like you mean it. 10:05 — Beecher throws, the camera's moving right ... still panning right ... now it's panning left. Beecher's pass was overthrown and DeAndre Morgan runs it out a little past the 20, but a penalty halves that. Why does anyone run it out of the end zone like that? That was several yards lost but won't go anywhere in Morgan's stats. 10:04 — Just about everyone downfield blocked perfectly for Mike Davis to run with that screen pass for a first down. It's like the offensive line was told the defenders were protestant. 10:01 — The Wolfpack is throwing the ball well. But the well thrown balls are merely falling to the ground, and the receivers are frozen in time just watching the amazingly thrown balls, much like a paper bag drifting around in the air. Puntin' time for NCSU. 9:57 — Nifty, nifty jump move by Andre Brown to grab a skosh more yards. 9:55 — Is it me or has the broadcasting been clean, crisp, and concise? (In other words: boring and bingo-killing.) 9:52 — Non-liveblog related, but I just saw this on Fark. A Shawn Johnson commercial for tacos ends predictably. 9:51 — Novel concept. A pitch to the right allows Mike Davis to break through the goal line, which is much more accepted in Columbia than breaking into bridges. 0
109:50 — And yet with a first and goal, SC could only get it to the 1-yard line with fourth down coming up. 9:48 — Like a poorly-situated Arby's, this game's full of turnovers. Daniel Evans throws a short middle pass right in the hands of SC linebacker Carlos Thomas. 9:47 — Oh, right, this game has yet to be decided. The Carolina that's in the South started with the ball. Heif Time 9:42 — Examining the other games, it appears ESPN decided to show the only game with a team who can't score at least 20 points. We have three combined. (The ESPN2 one, Oregon State-Stanford, is also currently at 3-0. Yeck.) 9:37 — "Ask Dr. Lou" is the new Lou Holtz segment, which is slightly less peppy than what he did last year. Tim Tebow and Lloyd Carr called in and left "questions" on Holtz's voicemail. If only we could get ahold of that phone number, I'd definitely ask Dr. Holtz what to do if I ever come face to face with Joe Tiller's mustache in a dimly-lit alley. And now for a word from our sponsors:
9:26 — Not that Lou Holtz was slobbering over the South Carolina performance, but it got me thinking. Is there a football game out there in which Lou doesn't have an emotional tether with at least one of the teams? Second Quarter 9:24 — NC State has been given 20 seconds to make something happen. In a way, NC State is in the same position as my ex-girlfriend late at night. They're not going to use the chance. They zap out the clock and we've got halftime shenanigans. 9:22 — The second timeout fails, since they forgot to switch the football with a lead bowling bowl shaped like a football. And we have points, at long last. 0
39:21 — Oh, we're still doing those "call a timeout after they call a timeout" charades this year? Good to know. 9:20 — Kicker Ryan Soccop — he's known for saying what Coach Spurrier wants to hear — is warming up on the sidelines to get the first points of the game. 9:18 — No, Tommy Beecher does not have his first touchdown yet. On the plus side, he's still not at his fourth interception. 9:16 — True to form, the punt tricks NC State into fumbling. The Gamecocks have themselves some primo field position. With 1:45 left in the half, they can go into the rooms with lockers while holding a slim lead. 9:15 — South Carolina's punt lands inside the 5, but the defender covering the punt catches and slides into the end zone, resulting in a touchback. That's probably the slickest-looking touchback I've ever seen. 9:11 — While SC takes the ball, Beecher gets out of trouble and picks up a few years. Let's look at his scouting report:
Name: Tommy Beecher Position: Quarterback Height: 6'2" Weight: 220 lbs Density: mass / volume Strength: Accurate, throws the ball well. Rarely, if ever, does he throw the ball into his own groin. Strength: Knows where his receivers are at all times. It said in his playbook the trick to remembering this is they are the ones with the same color jersey as him. (Difficulty: need to know color of one's own jersey.) Weakness: German chocolate cheesecake Fun Fallible Fact: Sang in a church choir when he was eight. But it was a Unitarian church choir. So each chorus member sang whatever hymn they felt like. 9:10 — Ah, the Allstate commercials. If the guy outside can't understand his friend in the diner that "your car's rollin'," how come we, the viewers inside the restaurant, can hear the guy outside perfectly fine? 9:08 — With Evans back in, they move the ball slightly more, but the 40-yard field goal would have been good only if kicker Josh Czajkowski had better aim, or Hurricane Gustav deflected the ball back through the uprights, or between two cows loitering outside the stadium. 9:04 — Wilson is lifted onto the stretcher, and will leave the field that way. Damn. I hope he's fine, and eagerly await when it's OK to make fun of injuries for the rest of the night. 9:00 — M'kay, now I feel bad. He's still down. 8:57 — After an impressive third down draw play, Wilson becomes part of a fleshy sandwich stuck between two slices of artisan ciabatta defenders. He's not getting up, so maybe it isn't as funny. Unless they scrape him off the field once the commercials are over. Then it's fair game. 8:55 — NC State is moving the ball well. By the way, there are only five minutes left in the half and we have no score. Way to speed up the game, NCAA. Could you speed up the process it takes to make those yellow lights show up on the scoreboard? Do we need more coal? Because I have a shovel and a band of men with something to do. 8:52 — Beecher is rewarding people who get open with throwing him the ball. Justin Byers, who plays for the other team, got open great. 8:51 — A fourth down go-for-it all was teletyped into the huddle while they were inside the 40. And it worked. 8:48 — Another penalty destroys Spurrier's patience. Off goes the visor and microphone and he rubs his hear vigorously. How does the Ol' Ball Coach have the face of a 50-year-old and the hair of a 20-year-old? 8:46 — Why did the Securities and Exchange Commission put their stamp on the field? Are they a sponsor? Or is this eminent domain at its worst? 8:45 — Out of a timeout, SC gets a lateral pass to go for a first down after the first tackle was missed. Which is why you never dive in football games. It never works, and the big tackle doesn't really get you more points. Because every tackle is 0 points. 8:43 — So there's Brett Favre in that jeans commercial. Just to play it on the safe side, I'm going to ignore all pants in general. 8:40 — Oh, nice name. Captain Munnerlyn was back to return the punt for the Gamecocks. Which car did he drive in the Wacky Races? First Quarter 8:37 — Exactly what the world needed: a parody of Juno. 8:36 — The guys in the ESPN truck had one album, and it was an AC/DC mix tape. Well, hell, we got a show to produce, let's use their music for intros, outros, and anything else. 8:34 — Wilson is out and Daniel Evans is in at quarterback for NC State. Hmm. Maybe this is a preseason game. 8:33 — Check that. Beecher connects to Irving for his second interception to him. At least it's consistent. 8:33 — A 4th and 1 play for SC results in a successful quarterback sneak. Actually, the entire lineman was able to get into first down territory. That oughta count as additional yards. 8:30 — Another brilliant ruse. Following the punt, Andre Brown gets the ball poked away during a run play, and the 'Cocks 'cover. 8:29 — After 37 penalties for the Gamecocks, they punt downfield and stop the return from whence it was returned. 8:26 — Oop, a personal foul on the offense. Some of you might be wondering why the referee gestures the foul, then consults and re-gestures and explains the penalty. This is a rule put in back in 1999 when Myles Brand thought it would be a good idea to honor Charlie Chaplin and all Silent Era actors with this first initial gesture. 8:24 — Rubbing Howard's Rock? Don't make me open up a new window and look into Urban Dictionary. 8:23 — In other games, Buffalo and UTEP are each scoring well. UB's up 21-14 right before halftime. Warning: you really don't have to watch that, though. 8:21 — Russell Wilson is not yet the "passing" type of quarterback, and promptly throws the ball away. 8:19 — NC is driving, by the by. Russell Wilson is the running type of quarterback, and scampers for a few yards. 8:18 — They really, really like "Thunderstruck" as the background music as they announce the starting lineups. 8:14 — Mike Davis was the player who broke into a fridge. His major: criminal justice. Maybe he was just working on a thesis: "Under The Tiny Bulb: Food Theft And Behavioral Patterns Of Petty Criminals." Titles of papers are made long so if you increase the font to Courier 24, maybe it spills over to a second page. 8:13 — A short run play lands near the 50, with that huge logo ... sorry, that looks like a dragon, or some kind of draconian hybrid. As long as it breathes fire or knows how to start a blaze without flint, I'm happy. 8:12 — Nate Irving brought down the tailback for a good loss. His coach says "he could be special." Meaning he's not special as of today. Burn. 8:11 — Steve Spurrier's Son (he has no first name, this is actually his legal name) is calling the plays, but doesn't have the final say. 8:08.30 — Life imitates video games, and a 4th down pass play is called. Imitating it whenever I play it, the pass is overthrown, leaving a heavy feeling of remorse. 8:08 — Russell Wilson underthrows a 3rd-and-long pass because three guys knocked him down simultaneously. Pssh. Anybody else could've made that throw. 8:07 — Sounds like it was a smart move to throw that interception. NC State's offense is moving the ball in the same direction SC was. 8:05 — Aw, picky. Beecher chucks the pass to Jimmaul Simmons. State ball. 8:04 — Another reason no school should ever suspend someone for "unspecified team reasons," someone on SC's team was disciplined for breaking into the refrigerator in the gym. Which brings the question: refrigerators have locks? 8:03 — Kenny McKinley convert's the game's first down. I'm out 50 bucks; I had Moe Brown in the pool. 8:02 — Tommy Beecher is SC's quarterback. Call it a moral victory if this is remembered through three quarters. 8:01 — South Carolina will be kicked to first. Meaning in the bowl game they will kick first. 8:00 — Would you rather know what is expected out of freshman quarterback Russell Wilson or what Erin Andrews is wearing?
Pre-Telecast Babble Both teams are reeling after injuries sustained in preseason games last we... wait, the college players don't do preseason games? Just one scrimmage against themselves, and it was months ago? Advantage, NCAA. We're in the realm of the season where nobody knows anything about who will win it all, and just wait until October, when we still know nothing, but can pretend a whole hell of a lot better. ... I'm sorry, that last sentence somehow snuck in from the Wonkette live blog. But most of the time will probably be spent discussing the other teams in the game who are expected to compete for the national championship. All these telecasts really do is give an excuse to talk about the top teams and who should be ranked No. 1. You get this more in college football, it seems, than in the pro sports' broadcasts. "Third quarter, New Mexico is down 17, looking to rally ... so, Roger, how about Ohio State's chances this year?" Secondarily important tonight is seeing if South Carolina has any noticeable names in the program beyond Spurrier and ... well, the other Spurrier, as well as if NC State can cease being the ACC's pissbucket. Roll that beautiful bingo footage.