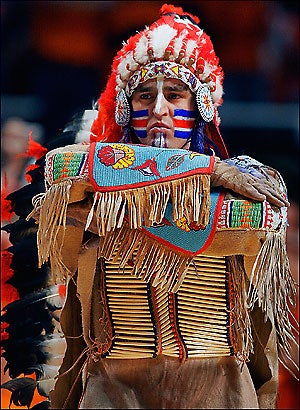 Chief Illiniwek, who was officially disbanded by the University of Illinois as the school's mascot in 2007, had a resurrection of sorts on the Urbana-Champaign campus last weekend, when an independent student group hosted a function that included a dance by a student-anointed mascot-in-waiting. From WBBM 780 AM's website:
The independent group Students for Chief Illiniwek rented Assembly Hall on Saturday, hosting about 9,000 people. The event included a performance by Logan Ponce, a student chosen to be a chief-in-waiting in case the university ever reinstates the mascot. Protesters stood outside the arena carrying signs that said "People are not mascots, respect all people."
In addition to hordes of angry, sign-toting casino owners, the university could also face sanctions from the NCAA if they re-institute the mascot. They have already disavowed involvement in the Assembly Hall event. Look for the school to mediate the matter by providing the student group with free blankets. Hey, it worked pretty damn well the first time, right? Right?