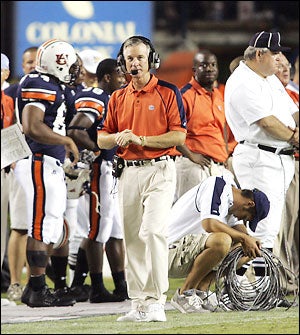 Auburn's struggles on the offensive side of the ball this season have been well-documented, but then head coach fired offensive coordinator Tony Franklin and everyone seemed to shut up about it. And this happened despite the fact that Auburn (5-6, 2-5 in the SEC) still can't move the ball when they need to. From The Sporting Blog:
Needing a TD late in the fourth quarter with 8 minutes left, Auburn opted for the following play sequence. 1st-10, UGa28 6:08 B. Tate rushed to the right for 3 yard gain 2nd-7, UGa25 5:41 B. Tate rushed up the middle for 4 yard gain 3rd-3, UGa21 5:12 B. Tate rushed to the left for no gain 4th-3, UGa21 4:13 K. Burns incomplete pass to the right Two cardinal sins in one series occurred here. First, the hot hand, Mario Fannin, who rushed for 107 yards and had 2 TDs on the day, sat on the bench for the final drive. Why? The math-deficient answer from Tommy Tuberville: "Ben was running the ball pretty good," Auburn coach Tommy Tuberville said afterward.
Tate, for the record, finished with a whopping 37 yards on 14 carries. And, yeah, Auburn lost. In firing Franklin, Tuberville assigned him the blame for a disappointing season. But in assuming most of Franklin's duties himself, Tuberville hasn't been able to show that he's been able to do any better without him.