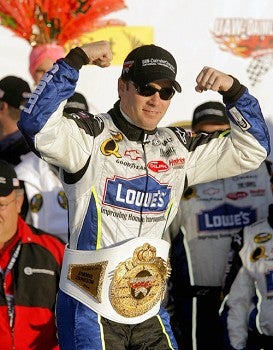 ESPN is really trumpeting the impending NASCAR Sprint Cup championship of Jimmie Johnson. Jimmie has racked up so many points before this final race that all he has to do is keep his blood-alcohol level below a .15 and he'll win his third straight Cup. But, and I'm asking sincerely, how big a deal is that? If we were to believe ESPN, you'd think he'd won the Stanley Cup, the Vince Lombardi trophy, and Paris Hilton's chihuahua all at once. Is Johnson's threee-peat on par with the great achievements in sport? the Worldwide Leader's Ed Hinton says yes:
This is about relentless human spirit, sheer talent at anything, and the difficulty, duration and intensity of work done in the name of sport. This is about team effort as surely as any in the NFL. The smallest mistake by one person out of many can ruin everything — not just one bad move by the driver, but one bad call by the crew chief, one missed tweak by an engineer, one stumble by a pit crewman in a group of seven who must go over the wall as synchronized as any offensive line firing off the ball.
Sure, the margin of error for success in NASCAR is infinitesimally small. But as the ancient Chinese proverb goes, "If three straight championships fall in the forest and nobody's around to hear them, do they make a sound?" Despite the rising popularity of motorsports, this achievement won't garner the eyeballs that it may deserve. Excellent, yes, but it's not on par with the championships that we've actually seen. Without broader mainstream appeal—or even acknowledgment as an actual sport—Jimmie's coronation as one of history's great drivers will fall short of Jimmie's acceptance as one of America's great athletes.