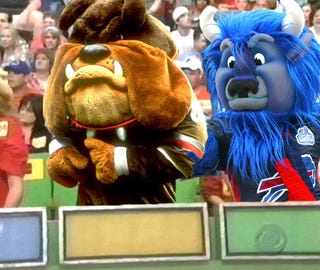 Never before have so many Midwestern teams that aren't actually located in the Midwest been in one stadium at once! The disappointing Cleveland Browns and differently-but-equally disappointing Buffalo Bills will battle to the frigid death to see who's less disappointing team of all. It's going to be Korny in the booth, so please jump for the children at 8:30 p.m. * * * * *Fourth Quarter 11:55 — The Browns kneel down on the final play, as if they quit. I have nothing else to say tonight, other than if these teams were any better and/or in bigger markets, it'd be the talk of the town tomorrow morning. Instead, the Great Lakes area will get to embrace this game as their own. See everyone next liveblog, except for those who don't pay their cable bill. 11:52 — Once Buffalo finds out that MNF mentioned Scott Norwood before this kick, they're probably going to write several angry letters to ESPN. Did I mention the letters will be frozen solid and without personality? The 46-yard miss gives the Browns the win, avoiding another 13-point blown lead. Aww, too bad. 11:52 — Lynch runs. Browns call ... your mom. 11:51 — Lynch runs. Browns call timeout. 11:50 — Lynch runs. Browns call timeout. 11:49 — Jaws: "You don't have to get all this in one throw." But what if he does? Edwards zings it to the 35-yard line and now Lindell has the chance to win the game. Cue the footage of Lindell making FGs this long before the game. Ah, right on schedule. 11:48 — With 1:33 left, the Bills need to goal the field themselves. And in the Thanksgiving spirit, the Browns brought with them from the Cuyahoga a plump turkey, stuffing, and great field position on the kickoff. Buffalo's on the 44-yard line. 11:46 — Cue the footage of kickers teeing off before the game ... now cue the footage of the kicker pulling it right ... hey! Who gave Dawson the ability to nail that one? The 56-yarder inches the Browns ahead by two. MORE FIELD GOALS. 29
2711:45 — Second and third down weren't much better either. Dawson needs to blast it from a semi-wind-aided 56 yards away. 11:44 — And now for the two-minute drill ... an auspicious start as it rattles in the arms of the Bills' Leodis McKelvin and drops to the ground. 11:41 — How was Quinn not sacked? (A: Nobody hit him.) Quinn to Winslow brings a warning that only two minutes remain in the game. The National Weather Service has not yet downgraded this to a Two Minute Watch. 11:39 — Cribbs gives the Browns a 33-yard line of possession. 2:17 left. In The Event Of A Tie, Proposal #4 A 10-minute, sudden death, 7-on-7, no punts or field goals, no timeouts, no clock stoppage session of football. But the real twist is that the game will have already been declared a tie after four quarters, but since the players don't know that, and seem to do whatever the coaches say, it'll make for quite the exciting session of football and subsequent hilarious post-game conference. 11:37 — The Browns let them score. 26
2711:36 — There's 2:35 left in the game. Maybe the Browns should just let them score. 11:35 — Now it's Marshawn Lynch's turn to run through the Brownsicles and dive for the endzone. He's ruled down at the one. Ew. "Brownsicle." 11:33 — The Williams have five minutes to touch it down. They're already past midfield. 11:31 — Do you like incompletions to Braylon Edwards that were well covered? Because we have two in a row for you! Act now, operators are standing by. Well, some are. 11:25 — Interception .. this time by the non-Trent Edwards developing quarterback. Ko Simpson dives gracefully and picks that shit off Quinn's arm. OR DID I JUST LIE TO YOU? Replays show the ball might've hit the ground between his arms. Cleveland's challenge is successful and the pass is just incomplete, and Trent Edwards is the only goat who throws picks in this game. Quinn is perfect, glimmering, and ... I shouldn't be having these feelings inside me right now. 11:21 — Great Moments In Punting History: Cribbs fair catching Moorman's kick will not be one of them. It was just meh. 11:19 — Great Moments In Obscure Stat History. Apparently a Stanford quarterback has never thrown a touchdown pass to a Cal-Berkeley player in the NFL, Tirico notes. (Kornheiser: "EVER!?!?!") If Edwards can dump one off to Lynch, that trend will end. 11:16 — Trying to prevent a huge gain by McKelvin, they pop up the kickoff and Fred Jackson returns it to the 40-yard line. Field position crisis averted! 11:13 — A point blank shot by Phil Dawson gives 'em a two-field goal lead. 26
2011:12 — You felt this happening deep in your pancreas. Fourth and goal. 11:10 — And a nation outside of Cleveland is finally finding out who this Jerome Harrison guy is. He already has a career high in rushing yards (80) and gets a 21-yard catch down the sideline. 11:07 — Oh my. Kawika Mitchell pushes Harrison out of bounds and into a bench. Harrison stayed on the ground for a while, and Mitchell brings the flagginess for 15 yards. Thing is, replays show Harrison was still in bounds when the shove occurred. Per rule, Dwyane Wade will get two free throws. 11:07 — And back to incomplete passes by Brady Quinn. BOR-RING. 11:06 — Actually, the referees correct the kickoff play and since it went out of bounds at the 43-yard line, the ball will be placed there. Three yards of gain already and the ball hasn't been touched yet. 11:05 — That's not a touchdown. That's a kickoff out of bounds, which puts the ball at the 40-yard line. It also is currently the worst yardage gain by the Browns so far in the fourth. 11:02 — Sweet Klondike madness. Everybody is running great distances except for me. Leodis McKelvin responds to the 72-yard KO punch with a left hook of his own in the form of a kickoff TD. Two plays this quarter, two touchdowns. If this keeps up, we're looking at a 113-110 final score, which I can safely say will probably happen. 23
2010:58 — Mildly ... unexpected. Backup back Jerome Harrison bursts through a bunch of Billsicles for 72 yards and a safe 10-point lead. 23
13Third Quarter 10:56 — Romeo Crennel's mustache looks over-trimmed. Did anyone tell him this? Or is he just such a players' coach that nobody has the heart to tell him it doesn't look as venerable. 10:52 — Tirico: "No team has ever blown three straight 13-point leads." Go, history, go! 10:49 — Field goals just RULE. They should change the rules so that nothing but field goals can be scored. Lindell brings the Bills to within ... ANOTHER FIELD GOAL. 16
13In The Event Of A Tie, Proposal #3 Final Jeopardy. Category: "Innovations In Nanotechnology." All part of a plan to make tiebreakers shorter than if the category was "NFL Rules." Also, players answering the question must wager Madden Rating points in next year's video game. 10:44 — I'm going to mark down "Tony Tries To Find Something Jaws Doesn't Know About Football" as Kornheiser poses the thought that a quarterback can have "too much time" in the pocket. (It didn't work, as you can tell.) 10:42 — It's too cold for anyone to slide feet first, it seems. Edwards scrambles down the middle and gets whumped. But it doesn't count, as offsetting penalties replay the down. Which means Edwards doesn't have a huge throbbing pain in his head right now. It didn't happen. 10:41 — I'm no lip-reader, but I'm pretty sure the field mic just picked up an errant "fucking horseshit" on that kick return. 10:37 — Just when Jaworski says anything disapproving or commending of either quarterback, either QB seems to negate the analysis and do the opposite ting in the next set of downs. Case in point, after a huge pass to Edwards near the 20-yard line, Quinn got his team into a 3rd and 17 hole, so they salvage a field goal. 16
1010:34 — It sure was nice of Comcast to show the same James Bond commercial twice in a row. 10:30 — Quinn, with ample tracts of land ahead of him, runs for the first down, and gets out of bounds in the Bills sideline. He'll come to learn as a quarterback that you'll last longer if you run toward your own sideline. 10:26 — Interception by the Brow... wait, fumble? I didn't know there was another method of turnover that Buffalo was capable of. Shaun Smith's injury replacement Ahtyba Rubin jumps on the dropped ball. 10:24 — Shaun Smith was the injured Brown, adding him to the triage list with Sean Jones, who was hurt earlier. This leaves Shaun Rogers as the first string Shaun on the team. And, aw what the hell, why not throw in a fat joke. He's also the team's second-string Shaun. 10:23 — This injury timeout reminds me the decapitation rate in this game seems to be considerably lower than other MNF games. 10:17 — On third down, Winslow with a huge if-there-was-no-penalty-that'd-be-a-first-down catch. 10:15 — And we're back to action. Both quarterbacks are shaky, and Michel Tafoya stands on a sideline with a microphone to say this through the coach's words. Also, Mike Tirico uses the rosiness of Tafoya's nose to determine the weather on the field. He also uses the same tactic in the bedroom. Rawr. Halftime Entertainment Video If only this clip was the origin of the idiom "walking on eggshells." It is, however, the origin of "they'll put anyone on TV." Click to view
Old Man Jumps On Eggs Without Breaking Them - Watch more Free Videos "Oh yes, it's definitely been jumped on." My goal tomorrow is to use that line, WITH the affected accent, in conversation without arousing suspicion. Second Quarter 9:59 — Well then. It's almost like Edwards wanted the clock to run out. I mean, that's good protection by the offensive line, but ... how about giving the field goal a chance? He finally throws the ball out of bounds with three seconds left, giving Rian Lindell three more points on his resume to end the half. 13
109:57 — Hmm. Edwards got some yards, but running up the middle for 4 yards probably isn't the smartest call right now. He also hesitates to call a timeout, because, well, maybe there's a better option with 15 seconds left in the first half and the clock running. Like punt. 9:55 — Lynch dives for the outlet pass, gets back up and scrambles to the sideline for the first down, stopping the clock with :30 left. 9:54 — WILDCAT FORMATION. What iPhones are to bloggers, Wildcat is to NFL offenses. It's new, and because it's new it's better than everything else. 9:53 — The Bills have two minutes and about 30 yards to get some kind of pointage. Running it with Marshawn Lynch ... good idea, but not right now. They might have to use the forward pass now. In The Event Of A Tie, Proposal #2 Penalty kicks. Kickers alternate making field goals starting at 30 yards and adding five yards every time. In the event both kickers make a 60 yard field goal, the kickers meet at midfield and have declare a thumb war. 9:49 — There's a raging debate on what the meaning of the word "quit" is, and whether or not the Browns fit that description. Might I remind everyone, the Browns lead a football game by six points on the road against a team with a winning record. 9:40 — Apple pie à la Beast Mode. The short pass turns into a moderately-long touchdown, and it's no longer an icy blowout. 13
79:39 — Unfortunately, Kornheiser said what I was thinking, only I couldn't make it into a joke, but he up 'n went with the "Coe-Ed" angle. 9:38 — Solid run by Coe College's Fred Jackson. Those MNF guys really like saying Coe College. Coe College. Hey, that is fun! 9:36 — SPORTSCENTERNEWSDESK UPDATE. In case you were hiding in your Avian flu bunker all day, Mark Cuban is being investigated for insider trading. Then again, is it REALLY privileged information that a search engine not named Google or Yahoo would quickly tank? 9:33 — Finally, a quarterback for the Browns scores a touchdown in this game. No, not that one. Endaround to The Pride Of Kent State, Josh Cribbs, is good for a 2-yard TD. 13
09:30 — Also, Jamal Lewis runs well even today. Didn't know that. 9:26 — Stop the snark, everyone. Quinn is leading these dudes downfield quite well. A photon laser to Braylon Edwards puts the ball on the good 32-yard line. 9:23 — Finally, the Browns got themselves a third down. And all it took was a penalty on the Bills' secondary. Really, this game's just about seeing who fucks up less. Maybe the Browns would be wise to just kneel thrice and punt. 9:22 — Jeez, the Browns sure know how to reach third down quickly. (It's one of their positives.) First Quarter 9:19 — Great coffin punt by Moorman to pin the ball inside the 5-yard line. Really, if the team was just Moorman punting to McKelvin, they'd be down by fewer points right now. Also, see if you can spot the difference, Tony K.: George Catavalous, defensive backs coach. George Costanza, freelance architect. 9:18 — Well, that incompletion wasn't Edwards' fault. But it's less fun if we don't have a scapegoat. 9:16 — I kid Trent Edwards, but he no longer has more interceptions than he does completions. Because now, they're the same number (three). 9:16 — Leodis McKelvin gets another solid return. Maybe he should just line up at quarterback. Might as well. 9:14 — Another field goal for Cleveland, because getting a touchdown would be silly and rude. 6
09:12 — Mr. Owl, how many interceptions does it take to get a Tootsie quarterback benched?
(Brandon McDonald got this one.) 9:11 — Buffalo takes a 30-second timeout. They have 30-second timeouts? That'll be confusing if they have those in the playoffs. In The Event Of A Tie, Proposal #1 Teams line up at midfield, and whichever referee blew the worst call the week before will flip a coin in the air, and the home team captain must call it in the air. Whoever wins the toss gets to pick which team wins and loses. The other team picks what side of the field they want to defend. 9:06 — Gak. Coming out of commercial, the camera found a the shirtless Buffalo fan who painted a Bills logo on his chest, then emptied out the last few drops of his shame by brandishing "ESPN" in red letters (catsup, most likely) on his belly. Don't ask where the "Sportscenter is Next" tattoo resides. 9:03 — Brian Moorman generously kicks the ball to the other team. So much for running the ball all the time. Shaun Rogers is just too fat for that to work. 9:02 — Could just be my cable feed, but during every play it sounds like someone is banging a screen door with a rubber mallet. 9:00 — As Kornheiser brings up Edwards' concussion, the evidence on the field contradicts the argument that his dinged up head is the reason for the two early picks. Clearly he's thinking soundly by handing the ball to Marshawn Lynch, preventing more interceptions. First down. 8:58 — Third and nope. The points are going to have to spring from Phil Dawson's kickin' loins. 3
08:52 — Quinn isn't gonna be anyone's whipping boy, he'll just bootleg that sucker to the right for a first down ... of course, Jaworski recommends that Quinn slide feet first, but that's something he'll quickly learn once Rodney Harrison disciples award Quinn his first NFL concussion sometime in 2009. 8:49 — Andra Davis gets in on the interception gangbang. Receptions by the Browns defense: 2. Receptions by the Bills offense: 1. 8:47 — Sure was nice of Willie McGinest to tackle Edwards forward for a yard. 8:44 — Brady Quinn sneaks an incomplete pass into the Browns first three-and-out, which is hopefully enough to subside the analysts ready to scrutinize his development. 8:42 — The Bills start with a good kickoff return, but felt they didn't deserve such nice field position, so Trent Edwards threw the ball into Shaun Rogers' hands, and it deflected into the gullet of an alert Kamerion Wimbley. 8:33 — Kornheiser: "Derek Anderson's QB rating was so low, if it was his body temperature, he'd be dead!" Either that or he'd have to marry this woman. 8:29 — The can't-get-a-football-job-anywhere-else guys in ESPN have made their predictions. It's almost a consensus pick for Buffalo, except for Keyshawn Johnson, who picked Cleveland because Ditka picked Buffalo. It's tough to argue that logic.
Pre-Game Babble So Brady Quinn gets another start at night. Playing under the lights might be all he'll understand. Once he gets into the 1:00 fustercluck of games, and ESPN doesn't converge mob-style on his emergence as an NFL passer, perhaps he shrivels like a delicate flower and Tim Couchifies right on schedule. Meanwhile, Buffalo is 5-4 and yet in last place in the AFC East by very little. A win puts them in 6-4, tied with New England and Miami, and one game behind the New Amsterdam Jets. Everybody's equal? I didn't sign up for no Animal Farm metaphor. Parity is only fun when you're playing Mario Kart and all the computer players keep beating each other and you can finish third all the time and still win the gold. Also, it's cold in Buffalo tonight, which is urgent news. In preparation for being one with the common Buffalo fan, I will ice down my nipples after each change of possession. Let's Fix The Tie Rule Tonight If you've watched any TV or listened to any TV-less radio today, you will realize that the tie rule in the NFL is a travesty upon humanity and must be abolished immediately, because our ancestors sailed away from Europe for this very reason. True story. Someone must win or lose all the time. Even if both teams played great and the announcer says "you hate to see someone lose this game," the announcer is wrong and probably a dirty Welshman. Therefore, to do our part to stay part of North America, stay tuned throughout the live blog as we provide new and fun alternatives for breaking ties in the National Football League. Tonight's Bingo Card