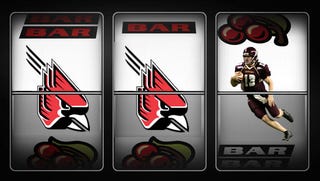 Ahhh. Mid-American Conference football. You were born a fan, it's just that nobody told you until tonight. The undefeated Ball State Cardinals flutter into Mount Pleasant to tangle with some fired up Chips. Winner probably wins the MAC West Division, a fact which you already knew. Also something you knew: if you build it, they will jump. * * * * *Fourth Quarter 10:38 — Abruptly! The broadcast is over. As is my time in this live blog. A hearty Michigan-y thanks to each and every one of you for following along. 10:35 — Wow, I'm really sorry for predicting that one. LeFevour throws a nice, crisp spiral to Sean Baker. Perhaps review will see that Baker's feet were not in bounds, or that they were a drifter's set of feet and his original legs are somewhere in a meadow, which is out of bounds. No? It was a legal INT? Then that's all for this game. Ball State moves to 11-0 and CMU suffers their first conference loss. I hope they both make bowl games, though. Hell of a game. This might've been the most fun football game I've watched since the Super Bowl. Then again I have a short attention span and I always want to nominate the most recent Deadspin post I read for the DSHOF. That's just how I roll. In the now. Carpe diem. Seize the fish. 10:34 — HUGE chunk of razor turf was conquered by a deep ball to Bockheim. The Chips get up and spike the ball. 10:34 — Another completion to Brown, who shakes off someone's wrist and scampers out of bounds. 10:33 — The Mount Pleasanteers who already left the stadium ... RUN BACK INTO KELLY/SHORTS. The pass was ruled incomplete. Get back in time for the next interception, perhaps! But this pass was complete to Poblah and he gets out of bounds. 53 seconds left. 10:29 — Oh, that LeFevour, he always makes something happen. He'll get them down there and make this interes... or he'll throw an interception on the first play. Alex Knipp dives and snags the pick. OR PERHAPS I TOLD YOU THE OPPOSITE OF WHAT HAPPENED. Replays indicate a strong chance that the nub landed on the Dashboard Confessional-inspired razor turf. Caring is for the weak. Why even get out of bed? 10:28 — Antonio Brown, this is your CHANCE TO MAKE SOMETHING HAPPEN. And he successfully runs over his own teammate before falling to the turf near the 15-yard line. 10:26 — About nine Chippewas defenders circle around MiQuale Lewis to stop him on third down, and commence the dreaded tickle torture. CMU will get the ball back with about 60 seconds of bliss. 10:23 — Ray Bentley says "irregardless." The grammar Führer in me wants me to use that word in a future bingo square. It's now in the mental lockbox. 10:23 — So begins the "run short distance, call time out" battle of wits. Maybe Butch Jones will fake the timeout. Y'know, to screw with the other team. 10:21 — With under three minutes to go, a 3rd and short might have been stuffed by the CMU line. "I think he's a little bit short." WE GET IT. HE'S MINISCULE IN SIZE AND BIG IN HEA... oh, he's short of the first down. I see what you're saying now. yes, he does look short. But on the measure, he got the football nub past the down marker. Devastatin'. 10:19 — HEY THAT'S NOT A PUNT THAT'S A FAKE. On 4th and 18, a reverse gain of one yard ... wait, let's measure it ... nope, that wasn't enough. 10:18 — Crucial. Vital. Sacked. Puntin' time. 10:16 — Holding call on 2nd and 1? No big deal. LeFevour can instead add to his passing yards by throwing to Poblah for many yards yet again. Everyone wins. 10:13 — In response, CMU will string together a hefty number of LeFevour-induced first downs. That's 25 times they've moved the chain. In comparison, when Oklahoma smooshed Texas A&M 66-28, the Sooners had 29 first downs. 10:09 — Could anyone currently in the household of Deadspin platinum VIP commenter Jerkwheat please remove all sharp objects within a 10-foot radius of our favorite CMU alum? 10:08 — Good job, running back. Now get outta the way, we're gonna pass this one. Briggs Orsbon, a name yanked from the depths of the 1830s, hauls in the TD. 31
2410:06 — Update: 160 yards on 21 touches. Todd Harris so flustered, he called his colleague Ray Lewis, who is also a football player. Levity! 10:05 — MiQuale Lewis yardage update: 141 on 20 carries. 10:03 — M.Q. has over 100 yards on the ground, so he'll just keep running some more, if that's okay with everyone. 10:02 — Ball State will hand it off to ... MIQUALE! MAN!
10:01 — Okay, seriously, Trey Buice. Stop defending. Points are more fun than pass breakups. Don't make us warn you again. CMU punts it away. 9:57 — Todd Harris discusses the turf. When it's warm it feels great but when it's cold it feels "like little razorblades." Eco friendly? Screw that. MAC football in November: now emo friendly! Hey, we'll take any demographic we can find. 9:54 — The man who spun Johnson around on the play, it should be known, is Tim Brazzel. Brizzle Brazzel Brozzel Brome, time for this one to come home. 9:49 — Hey, lookit. Davis to Louis Johnson makes it tied. Nice tackle there by CMU, though. Actually, we have a couple screenshots of the play:
249:49 — The ONE time I put Brett Favre off the board, and they compare Davis' overthrown ball to Brett Favre. SERIOUSLY now. 9:48 — Back to Ball State and the tiny, short legs of QualeMan, who is short. 9:44 — Okay, excellent commercial there by GameStop. What really made this work was the "Dead Man Don't Wear Plaid" coffee tactic shtick as the father just kept finding more magazines.
9:41 — Two plays (and less than a minute) later, Tito Poblah is dancing in the end zone with a football in his hands. The Chippewas will be billed fifteen (15) yards for the dance, and $27.99 for a pair of new clogs. 9:41 — Are you Fevourish? The not-at-all-Tim-Tebow quarterback brings it to midfield. Third Quarter 9:37 — Four fingers in the air. Yes, that is how you'd be drawn if you were an animated character. 9:34 — Sackenbraten. Nate Davis unexpectedly takes a ride to the turf on third down, so let's punt for Jesus. Chris MIller's kick sails and bounces 52 yards. 9:31 — Hold on a sec. The Emergency Alert System is running a test on my TV. Had this been an actual interruption in the live blog you would have been given instructions as to what brand of duct tape to purchase, along with a diagram the most delicious part of the human body. It looks like LeFevour failed to get in the end zone by [takes guess] throwing the ball over his shoulder and out of bounds, hitting the mascot in a hilarious fashion. As the game comes back into my rectangular screen, Monseiur Antagonisté shanks the three point try. 9:30 — Trey Buice didn't get the memo that he's not supposed to make great coverage plays in the end zone. Incompletion. 9:25 — The defenses in this game are like the British House of Lords. Traditionally they exist, but over time their role has diminished. Already CMU has advanced the ball well past midfield after numerous first downs. 9:18 — A landmark moment for onomatopoeia everywhere. Daniel Ifft — who is not a Monty Python recurring character (yet) — runs into the endzone and catches the tying pass. 17
249:16 — Nate Davis is taller than MiQuale Lewis and therefore less of a Rudy figure, but runs down the sideline for 22 yards. 9:14 — Brady Hoke does his best Tom Amstutz impression by going for it on 4th and one on their own 40. No idea how MiQuale Lewis extended that far with his knee on the ground, but regardless the drive continues. By the way, I loved Brady Hoke in "Curb Your Enthusiasm."
9:12 — Nate Davis does a pretty good but not perfect impression of LeFevour. Tackle was made by Frank Zombo, who can do anything he wants. 9:09 — Drop the kickoff. Yes, that's a good way to get your team back in it. 9:05 — Sneeeeeeeeeed. 10
179:04 — Sean Baker helps CMU by putting on a Ball State uniform and headbutting a Chippewas guy, perhaps taunting him for silly urine-colored uniforms. Half the distance to the goal. 9:03 — Wide Open Man #312 tonight: Kito Poblah, who didn't score simply because he fell over his own petard. 9:01 — And we're back. Ever just lock yourself in the bathroom and just cry for 20 minutes for no reason? Anyways, back to the action! CMU starts off with the ball. Halftime Entertainment Video Pssh. Unions. Click to view
Attractive Girls Union Refuses To Enter Into Talks With Mike Greenman Second Quarter 8:38 — Welp, forget about Ball State returning this thing at all. Briggs Orsbon questionably lets the ball graze off his fingertips, then he and his boys run back about 15 yards to pounce on it. Kneel, get up, and warm up those calf muscles. 8:36 — The decision to kneel or go for points ends up leaning toward the "Ask Corso" methodology. Two incompletions and a bad run makes CMU punt and Ball State will get the ball back for about 30 seconds. 8:34 — So, did Ray Bentley just admit to beating the shit out of guys outside of football? 8:30 — The microphone appears to be down gain. Dell technicians are standing by... the water cooler, but they'll answer the phone in about 15 ... minutes ... after Conan. 8:29 — Ray Bentley on the cheerleaders jumping up in down on camera: "You get people in front of a camera, they'll do all kinds of things." Oh, say that again. [zzzip] 8:28 — The tension over a 21-yard field goal has never been chillier. Ian McGarvey, who is in no way a bassist for a prog rock band, nails the three points. 10
108:26 — Hmm. On 3rd and 4 inside the 10-yard line, perhaps a run was not the way to go. 8:23 — There's the throw by Davis ... and an impromptu game of hackysack breaks out in the end zone. F'in hippies. Incomplete pass, Ball State calls timeout. 8:21 — MiQuale Lewis is Dustin Pedroia in a football uniform. He's tiny. He needs a phone book so he can stand in the huddle and hear the play. When it rains he's the last to know and first to drown. HE'S SHORT, PEOPLE. Henny Youngman, can you think of any other comparatives? Nate Davis scrambles for a while and finally dumps it to Lewis for a nifty gain of 10 or so yards. 8:19 — Myles Trempe drops the long, wide, Linda Lovelace-caliber pass. Trempe, you can do stupid things! 8:18 — Cory Sykes ran for 16 yards, and was tripped up by defender Bobby Seay. The state of Michigan clearly has a monopoly on athletes named Bobby Seay. 8:17 — On the Ball state kickoff return, I give that a 3.4 out of 10 in football fight severity. It had clear battle lines drawn, but no injuries, a few words, and not enough pushing. You can do better, guys. 8:15 — Aguila ties the damsel in distress to the train tracks for three points. Who shall rescue her? 7
108:14 — Geek Squad finally fixed the referee's microphone mid-sentence. Somebody's #66 did something wrong. Well just have to wonder. 8:10 — Quick, throw it to Kito Poblah! Even though Derrick Henry just piledrove him into the ground. That's interfering with the pass, which is cheating. And for good measure, the ball caromed off the back of the Ball State defender's helmet. Koink. 8:07 — I feel like a billionaire landed his helicopter on the field and started throwing out first downs to everyone. Or the MAC commissioner put on a blindfold and hit a piñata, spilling first downs and Bit-O-Honeys onto the field. Everyone's moving the chains quite well tonight. Defense is a warm-blooded critter. 8:05 — Third Down Conversionwich? With kettle chips. LeFevour k'nex with Anderson despite the defensive pass interference call. 8:04 — Please, everyone, do not go watch Pushing Daisies. 8:02 — G-G-G-G SACKWICH. Kashawn Frasar hammers Davis to the ground, and Ball State's penalty doesn't help much. Now for the low sodium, but less delicious puntwich. 8:00 — Davis throws it deep, and the refs can't justify any kind of penalty on CMU, so it goes as an incompletion. 7:57 — Instant Message from this girl I'm seeing:
it's the finale of america's next top model, I feel the need to live blog it ... because of this, I hate you.
This is the effect I have on women. Also, WHADDYA MEAN YOU CAN'T GO OUT TOMORROW!? 7:54 — Joe Bockheim is hurt. BUT HE CAUGHT THE TOUCHDOWN! Also, he's kind of hurt. Nah, he'll hop back up (with the help of two pulling arms) and let the Sinister Viscount Aguila do his sweet, sweet thang for the PAT. 7
77:52 — FOURTH AND GUTS. LeFevour sneaks into the gullets of 10 large dudes, which is my kind of a Wednesday night. He pokes the ball past the accurate-not-accurate yellow line for a new set o' downs. 7:51 — That's better than falling down™. LeFevour to Bryan Anderson for eight yards. First Quarter 7:46 — LeFevour hits the NCAA equivalent of a Mario Kart banana peel and tumbles for about a half-yard gain. 7:46 — Back to back extremely wide open CMU men catch large passes for first downs. 7:43 — So far I must say ESPN is treating this game with the respect it deserves. A 17th-ranked team against an unranked is generally a so-so game on the national radar. But they realize this game is HUGE for both of these teams, and are staying on topic accordingly. Of course, for all I know they have Mike Leach waiting on Line 2 to discuss their game on Saturday in the third quarter. 7:39 — Louis Johnson was extremely open. Nate Davis recognizes. Seven points. Respec'. 7
07:38 — MiQuale Lewis does his best Antonio Brown impression of Dan LeFevour. Loss of a bunch. 7:37 — Who says bloggers aren't journalists? The commenters are having a raging discussion on what font the uniforms are using. They'll get their own Sunday column if they can correctly guess what point size the numbers are. 7:33 — Todd Harris: "I'm not sure who's injured because I can't see the number. It could be Sean Murnane but I could be wrong so I won't speculate. Even though I just did." It was Casey Droscha. But that's OK. All white lineman look alike. 7:32 — The referees were reminded that defenses can also commit personal fouls, so they begin the trend with calling a late hit call on CMU. Also, sorry about not calling the mask earlier. Ball State is 22 yards away from a touchdown. 7:30 — Bummerville. MiQuale Lewis's enormous run gets trimmed immensely by a holding call downfield. (That's Ball State's first penalty in four games.) The ball goes back about 20 yards to the further 42-yard line. 7:26 — Oh, Andrew Aguila, that's a tremendous player mug shot you have:
Ha! Never get a 17th century swashbuckling villain as your placekicker. Aguila shanks the field goal, keeping the game nice, scoreless, and tidy (not to mention nipple-crinkling freezing). 7:24 — Antonio Brown does a horrible LeFevour impression. The direct snap loses five yards. Also, he does not roll his R's. 7:24 — "Aw hell, nothing's working. Just keep running it, Dan." "K, coach." 7:22 — The designed "fuck it, just run up the middle" play works for LeFevour for over 10 yards and a first. 7:19 — Gak. Disgusting three-and-out for Ball State. Fitting. Almost karmic. 7:18 — Maybe during the commercial, Butch Jones made a plea bargain with the referees to kick Nate Davis in the testicles. 7:14 — Kenny Meeks was trying to get a sample of LeFevour's cheek cells for his biology project. That or he just yanked on the mask. But the official ruling is: holding on CMU? That's probably the opposite of what happened. Any neck damage done to CMU's quarterback was purely coincidental and/or the result of hypochondriac propaganda. 7:12 — Huddles are for queers and Luxembourgians. CMU will just keep running play after play. Speeding up the game in the no-huddle offense? Good idea. But ... delay of game. Never mind. 7:10 — Ontario Sneed is an impact player for CMU, according to ESPN. That implies they'll actually use him as much as they should. And that, there, is why they won't. LeFevour avoids sacks and sashays through oncoming Muncieans for the first down. 7:09 — I was looking for Dan LeFevour and Tim Tebow, but we have a LeFevour-Vince Young comparison instead. The night is young. 7:08 — So much for bursting out of the gates and flowing strong. The drive became constipated at midfield. 7:06 — Well, that's a start. 24-yard reception from Nate Davis to the wideliest of wide open Darius Hill. 7:05 — See, this is why mid-major games are great. They say 7 p.m., and it kicks off five minutes later. No drawn out pre-game show. The World Series and movie theaters could learn from these kinds of games. 7:04 — Oh wow. CMU has opted for "Vegas gold" uniforms, which is euphemism for "piss yellow." What a bunch of maroons. 7:02 — Todd Harris and Ray Bentley are the messengers tonight in the booths. And there's scenery of the football zamboni plowing midfield to get the snow off. Don Shula can't be happy about that. 7:00 — A montage to the tune of "For Those About To Rock" by AC/DC. I'm rocking, and they're saluting me! For once I feel part of a community now.
Pre-Game Babble 0
0I've live blogged two NFL games and UNC-Kentucky basketball this week. To this day I have not yet decided why I agreed to that. But of all the events this week, this one tonight excites me the most. Yes, because Ball State is a teeny tiny school with big hopes and dreams of one day shedding its wooden torso and becoming a real football program. But also because, shit, it's MAC football. It's my conference. I didn't go to a Big Ten school so I'm not going to pretend I'm a Big Ten fanboy. I haven't gotten a chance to see much MAC football this year. Sometimes it wasn't even my fault. While enjoying an overtime game between Akron and Kent State earlier this year, the local cable provider abruptly cut the feed to switchover to the start of the Michigan game. There's not much room in this crazy BCS world for a little boy and his medium-sized conference football. And all it took was the Mid-American folks to sell out and jury rig their schedule to play on prominent nights like Tuesday and Wednesday. We're comin' for ya, Dr. House, you cane-wielding limey poser. Now to the game. A CMU win guarantees a spot in the MAC championship game, while Ball State needs to win this game and the showdown with Western Michigan next week to sweep the regular season. If they win those two, and the MAC championship against Bowling Green (humor me here), then Ball State will probably play in the BCS Title game against Ohio State. As long as I've gone this far, let me also share that I just made $53,000 on the stock market by investing in a company that makes your penis double in size. SCIENCE, MOTHERFUCKERS! Bingo Card