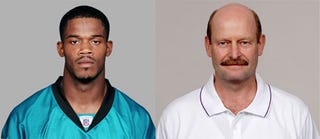 Current Jaguars wideout Troy Williamson spent his first three seasons in the NFL angering Minnesota fans with his mediocre play and current Vikings coach Brad Childress spent his first two years angering Minnesota fans by putting him into games. Of course, all of this happened during the downtime when they weren't angering each other. Williamson changed teams during the offseason, but hasn't forgotten his old boss's slights and now that the Jags and Vikes face off this Sunday in Jacksonville, he wants to settle the score—Queensberry Rules-style. He wants to "duke it out" with Childress on the 50-yard line. It all started last November, when Childress fined Williamson for missing a game—even though he skipped it to be at his grandmother's funeral in South Carolina. Things went sour after that and Williamson was eventually traded to the Jags. He's been waiting for this game for months, as a chance to show his old lover how much better off he is without her, but since Troy has just four catches this year and will be inactive on Sunday with a groin injury, he figured he might as well just show up anyway and punch Childress in the face.
"I'm going to bring this up one more time," said the Jaguars receiver, who the Vikings drafted seventh overall in 2005. "And if you all could bring this up to Coach Childress, we could meet on the 50-yard line and we can go at it" ... "I mean if I could duke it out with Coach Childress that'd be a different story," Williamson said. "But other than that, this is just another game to play on Sunday."
When Childress was asked about the comment at his press conference, he initially made some bluster about the teams having a "buffer zone" and not wanting to get fined, which is the NFL equivalent of saying "I can't fight you after school, because I have detention." But when asked about the tale of the tape, Childress did not demure.
"Do you need my reach? I'm not like a woman; I'll give you my weight. It's 190 pounds of twisted steel and rompin', stompin' dynamite. Is that enough humor for you?"
Yes, but we'll take some more. What do you think of your chances Troy?
"I love 'em," Williamson said. "I even could tie my hands behind my back and — all right, we're going to just leave it at that."
Awesome. Jacksonville coach Jack Del Rio, anything to add?
"He probably wouldn't have to run very fast to catch him."
Perfect. (I hope you're referring to your receiver as the speedier of the two.) And for the final word, we go to insane defensive end Jared Allen:
"Coach Childress is a tough-minded guy," Allen said. "And he's got a badass mustache," Allen said. "I put my money on whoever has a kickass mustache."
Well, that settles it then. Should we go with Brazilian jujitsu rules or just a standard WWE broken table match? Jaguars' Troy Williamson wants to duke it out at midfield with former coach Brad Childress [Orlando Sentinel] River City Rumble? Williamson wants Childress [AP/Google] Jaguars' Williamson offers to 'duke it out' with Childress [Rochester Post-Bulletin] Troy Williamson wants to fight Brad Childress at the 50-yard line [Orlando Sentinel]