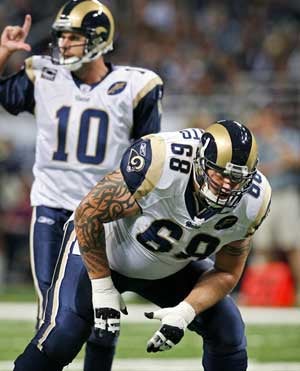 Things are tough all over in St. Louis, what with the Rams playing out the string on a 2-8 season with the sinking realization that Jim Haslett is who we thought he was. Perhaps the only thing that could make it better is to have a nice public feud between players and fans over who is worse at their jobs. Two years ago, when Chicago came visiting the Trans Jones World Dome, Bears over ran the place, making it feel like a road game for St. Louis. Running back Steven Jackson complained about being booed in his own stadium and called the situation "embarrassing." Since it's probably going to happen again this Sunday when Chicago comes back into town, Rams guard Richie Incognito (great name, btw) announced that he prefers it that way. Boos or no boos, at least someone is cheering.
"It seems like our fans aren't coming to the game, so it's fun when the other fans come in and start hooting and hollering. At least someone is in the Dome yelling," Incognito said after practice Thursday. "When we played the Giants (Sept. 14 at the Dome), they had the whole lower bowl filled up (with Giants fans). We know how our fans feel about us; that's fine. "It's nice to have the other fans here. At least they cheer. Our fans get in their seats, they don't know how to cheer, when to cheer. We get the other team's fans coming in, and they cheer real nice for us. It provides for a good football atmosphere, having the Chicago fans down here."
Translation for Rams fans: You guys suck. Of course, it didn't take the fans long to point out that the football product ain't too hot, either. To which Richie can only respond, "Touché"
They're waiting for something to cheer about, exactly," Incognito said. "We didn't give them much to cheer about."
So we're all agreed then? Everything in St. Louis is horrible. The end. St. Louis Rams' Richie Incognito says Chicago Bears fans likely to outcheer Rams fans + Richie Incognito takes his turn ripping St. Louis Rams fans [St. Louis Post-Dispatch] Memo from Rams fan to Richie Incognito: give us something to cheer about [Turf Show Times] Hey Richie Incognito FU [Ramblin' Fan]