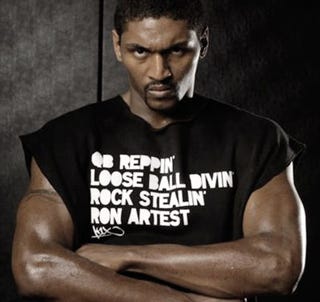 It's pretty rare to have an interview with Ron Artest that isn't entertaining, but the one he did in the latest issue of "King" magazine is unbelievably candid. Writer Thomas Golianopoulos was a former elementary school classmate of Artest's back at P.S. 122 in Astoria Queens, which evidently gave him a level of trust beyond most reporters. Artest answered his questions with even less of a filter than usual, revealing some pretty amazing stuff. Here are some of the most interesting/disgraceful/memorable quotes from "The Education of Ron Artest": On why he would get in so many fights in school:
"I got ticked off by everything. If I came to school bummy, I'd be heated. Maybe my underwears wasn't washed. Maybe my moms couldn't wash my underwears, so I'm already pissed for the whole day. Or if my clothes weren't ready and I had to wear something I don't want to wear. I remember I had to come to school in purple pants, purple jeans. I was pissed. "
On the "Malice at the Palace" and why he didn't do anything wrong:
" I didn't grow up to let somebody throw something at me. I ain't grow up to really think about consequences."
On the domestic violence arrest from March 5, 2007, where he allegedly slapped and shoved his wife:
"Only people from the ghetto can understand that incident. No, that's not true. Any married couple that has problems can understand what happened. When you push or hit a female and, in some cases, curse and scream, you are going to jail. It wasn't something I was proud of."
Huh. Well, at least he wasn't proud of it.