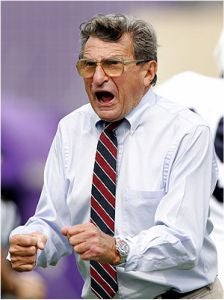 In front of a pep rally crowd of over 6,500 spectators, Joe Paterno announced that, despite rumors, he has no intentions of retiring, meaning he'll be staying on for 2009. An exciting announcement for sure, unless you're one of the Penn State boosters. Or the athletic director. Or anyone with any sense. Seriously, how do you get rid of a legend like JoePa when he's clearly past his expiration date and announcing another year of coaching?
Shaking a metal walking cane at his Rally in the Valley audience, the 81-year-old head football coach declared, "No matter what you read, no matter what you think, I'm not going away tomorrow. "I believe in what Penn State is all about," Paterno told the Nittany Lions faithful. "I'm not going to walk out of that press box a loser."
Penn State needs a win against Michigan State today to earn a trip to the Rose Bowl for the first time in 13 years. Michigan State could steal the bid with a win against Penn State and an Ohio State loss. Not an easy task, as the Spartans have lost 10 straight games against ranked opponents. • A BCS bid is at stake today for Utah, with a must-win match-up against BYU today. The Utes are unbeaten and ranked eighth in the country. May the best Mormon win. • A full schedule of today's games coming up in For Your Viewing Pleasure.