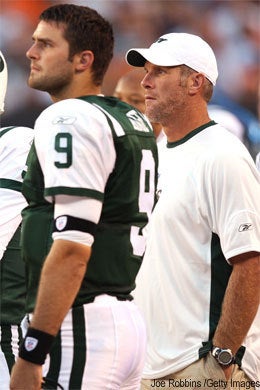 It is not a good week for back-up quarterbacks. First it was Florida, now the Jets. It seems that Jets Rookie QB Erik Ainge was suspended four games by the NFL on Friday for violating the league's policy on steroids and related substances. It doesn't seem to be a huge loss for the team:
Ainge's suspension has no immediate impact on the roster, as he was put on injured reserve Oct. 29 with a foot injury. The suspension does cost Ainge money, however, as he will forfeit four game checks. The other Jets player to be suspended this season was running back Jesse Chatman, who missed the first four games. Chatman, coincidentally, also was put on injured reserve Oct. 29 after suffering a knee injury against the Chiefs on Oct. 26.
Well shit. There goes my fantasy team.