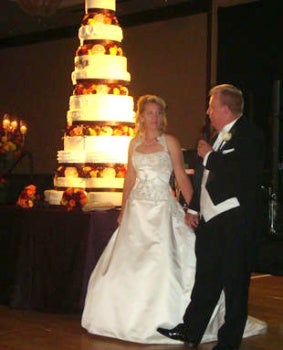 In a feat of engineering to rival the ancient pyramids or maybe even Lucas Oil Stadium, pro golfer Billy Mayfair and his lovely bride, former ASU golfer Tami Proctor, rolled out a $50,000 wedding cake at their nuptials on Saturday. It had 10 tiers, with I believe a mezzanine section and a tiny elevator.
"We didn't begin with a budget of $50,000 for the cake," the confectionary artist said. "It just grew after we sketched several designs and redesigned the Styrofoam models." Edible sugar flowers with more than a thousand leaves and petals were painstakingly hand-crafted. Several specialists, including electricians, were hired to light up the crystal globes on the cake with LED lights. Baker also designed the 55-by-55-inch wooden baseboard with experts from Home Depot. A huge hole in the middle accommodated electrical cords running to the cake lights. Steel legs withstood the cake's weight, which was never exactly determined.
I always bring in a team of electricians when I bake. But that wasn't even the best cake in the room.
The other, was a 100-pound chocolate delight of more than 40 layers in the likeness of Homer Simpson, one of Mayfair's favorite characters.
Mayfair said that the elaborate affair was to symbolize his triumph over testicular cancer in 2006. Hmm, I wonder what they topped the cake with? $50,000 Cake Wows PV Guests [Arizona Republic]