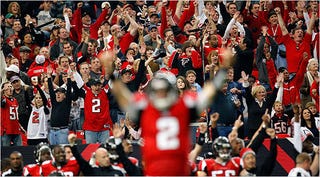 Interesting story in the New York Times today about Falcons' quarterback Matt Ryan and how he's slowly winning over the large percentage of African-American Falcons' fans, many of whom were decidedly pro-Mike Vick. The timing is excellent too, given that Vick might be coming to a football stadium near you sooner than first suspected. But regardless of Ryan's success there are still an abundance of No. 7 jerseys in the crowd at the Georgia Dome, paying homage to the man who once inspired them with jaw-dropping plays, willfully ignoring the fact that he tortured and killed a few dogs. But now, with the resurgence of the Falcons thanks to a rookie quarterback — a white one — some of the Vick fans are finally letting go of the ghost. Some, however, are not.
"We miss Vick," said Timothy Chambers, a tailgater before the Nov. 16 home game against the Denver Broncos, shouting over the sounds of the Atlanta hip-hop group Goodie Mob blasting from parking-lot speakers. "It's not the same as it was." Chambers said his circle of season-ticket holder friends contracted from about 30 to 18 last season, partly explaining their diminished enthusiasm on Vick's absence. "There's more white people in the crowd now. When Vick was in there, it was almost totally black," Chambers said, exaggerating to illustrate his point.
Chambers added that he was coming around on Vick, though, and ex-Falcon linebacker Jesse Tuggle is doing a hard sell on some of the former ticket holders who dropped the team once Mike got the boot. It's working, apparently, as more and more black people are returning to the Georgia Dome to root on the team. And here's a fantastic, ridiculous kicker to the piece that goes a little overboard to show the progress being made:
After an impressive play by Ryan at a recent game , an African-American fan seated near her belted out the highest form of praise: "Go, Vanilla Vick!"
And that's how a nickname is born... Ryan and Falcons Are Winning Back Fans Who Left With Vick [NYT]And just in case you didn't see all the black people in the stands at the Georgia Dome, Deadspin commenter Pedro Cuatro Cinco, who's counted and circled them for us in the Times' photo.