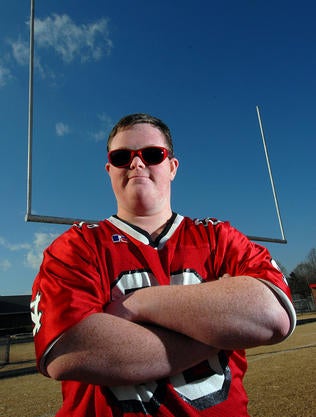 Here's Justin Weisner, the water boy for the Newton-Conover varsity football team. Weisner has Down syndrome, and even though he wanted to play football, his coaches and parents had always said no. But he somehow changed everyone's mind, his doctor gave him clearance, and this season he went out for the junior varsity and made it. And what he did at the very end of the season rocked the house.
Good story in the Charlotte Observer about how Weisner, who played only a handful of downs this season and never came close to making a tackle, surprised everyone at the very last minute. On the last play of the last home game of the season, the 17-year-old finally made his dream come true. He made a tackle.
On the video of the play, you can see that Justin is actually double-teamed. He fends off the blocks, moves to his left and runs into the ball carrier. Then about five of his teammates fall on top of the pile. Justin describes the play simply: "I found him. I got hold of him. I knocked him down."
Justin was mobbed by teammates and fans. People were crying.
Justin asked his mom a question about the tackle a few days later. Will my tackle get my name in the newspaper? Justin asked. Oh, honey, I don't think so, his mother said. They just can't put the name of everyone who made one tackle in the newspaper.
Well done, kid.
"I found him. I got hold of him. I knocked him down." Please take note, NFC West.
Tackling A Dream [Charlotte Observer]