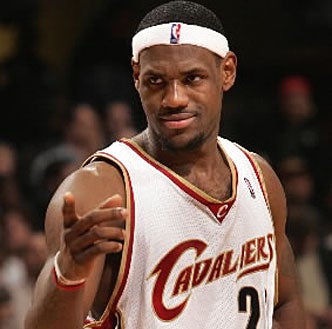 Remember on Thursday when Charles Barkley said Lebron James was alienating his teammates with all his talk of his impending free agency in 2010, and that he should "shut the hell up"? Well, you didn't think King James was going to take that lying down, did you? Heck no. On Friday, he fired back, BIG TIME:
"He's stupid," James said of Barkley. "That's all I have to say about that."
Hey now, Mr. Potty Mouth! That sort of filth won't fly in Cleveland! They may encourage that talk in some cesspool of a city like, oh, I don't know, New York, but...oh. Gotcha. Carry on then.
In actual basketball news, Cleveland stayed perfect at home with a 112-97 win over the Warriors. Lebron had 23 points, 7 rebounds, 8 assists, and 4 extremely weak taunts.
• Chris and the Hastily Installed Waterfront Condo Elevator: Ominous news for Raptors fans: Chris Bosh has only been a legitimate "super"star for about a month, and he's already showing up late to games. Sure, it was because he was trapped in the elevator of his condo building for almost an hour, but that's still no exc...what's that? I'm now being told it's "the perfect excuse".
"I was just heading to the game and I got stuck," said Bosh, who shook off an understandably slow first half to erupt for 15 of his 30 points in a decisive third quarter for the Raptors. "So I sat and reflected on life. Just chilled."
I think I know what he means: I often reflect on life by furiously clawing at the walls of enclosed spaces while crying like a little girl. And all that reflection seemingly paid off, as Bosh was able to focus the Raptors in a big 93-88 home win over the still-good Hawks (a game I was lucky enough to attend). Toronto now hits the road for games against the Lakers, Nuggets and Jazz. Good luck with those.
• That Old Gang of Mine: In other news, Kobe Bryant scored a season high 35 points as the Lakers beat the Dallas Insider Traders 114-107. Meanwhile, Shaq's other superstar former teammate (you know, the one who didn't go public about Shaq's alleged habit of paying women to keep quiet about sex) beat up on his old buddy in a different way - Dwyane Wade dropped 43 points as the Heat spanked the Suns 107-92. It was the first meeting between the teams since they swapped Shaq and Shawn Marion back in February. Steve Nash didn't play for Phoenix, as everyone knows Canadians don't play on American Thanksgiving weekend. It's a respect thing.
Charles Barkley trades barbs with Cleveland Cavaliers star Lebron James [Cleveland Plain Dealer]
Bosh elevates his game [The Globe and Mail]