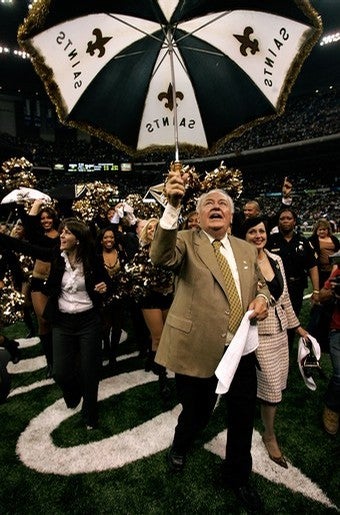 Let it be known to New Orleans Saints' owner Tom Benson: your players will not tolerate you intra-business whoring. It seems Mr. Benson has this habit of bringing cars from the many dealerships he owns to the Saints' practice facility, and then trying to sell those cars to his players. It also seems that certain of his players don't like being sold to. So prior to last Monday's home win over the Packers, they did what most people would do in the same situation: they smeared shit on their boss's cars. Human shit!
The bizarre story, first reported on by Pro Football Talk, was floating out there for a while before Jeff Duncan of the Times-Picayune extracted some confirming details from his Saints' sources. Now that's what I call intestigative journalism!
No word yet on who the players were. But if you happen to be looking for a vehicle at one of Benson's dealerships in the coming weeks, might I suggest avoiding any brown tag sales? Hey-yo!
Note: Sarah of course got to this last week. The new angle was just that it was confirmed by an MSM guy. Yes, that's the ticket - I'm not an inattentive idiot after all.
A bizarre story from the bayou [Pro Football Talk]
Saints poop-on-car story confirmed [Pro Football Talk]
Upon further review... [NOLA.com]