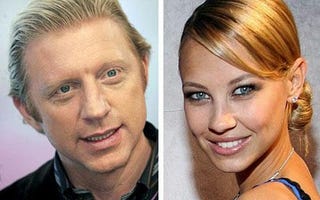 Boris Becker: 6-time Grand Slam winner. 10-time Grand Slam finalist. And 6-time recipient of a text message from his fiancee telling him it was over.
Yes, all you retired-tennis-player-gossip hounds, it's splitsville for the forty-one year-old Becker and twenty-six year-old model Sandy Meyer-Woelden. And with their busy schedules, they can't afford to break up like the rest of us - through an elaborately arranged scavenger hunt, the final clue of which leads you to the bedroom of your childhood home, where your now ex-girlfriend lays naked in the arms of the neighbourhood paperboy, who holds up a note reading, "Shouldn't have gone travelling for the summer, pal".
Nope. She did it by text message. Over and over again:
"On Friday evening, October 31, I suddenly got an SMS from Sandy .. saying that this was it, that this over. To make sure how serious she was she sent me five others saying the same thing," 40-year-old Becker told the Bild daily.

"I was completely surprised"...
Poor Boris. It's so hard to find a reliable supermodel girlfriend these days, let alone one who has mastered the intricacies of modern techology.
On a completely unrelated note, what the hell ever happened to Stefan Edberg?
CU L8ER: Model Fiancee Dumps Becker Via Text [SbB]
Fiancee dumps Boris Becker by text message [AFP]