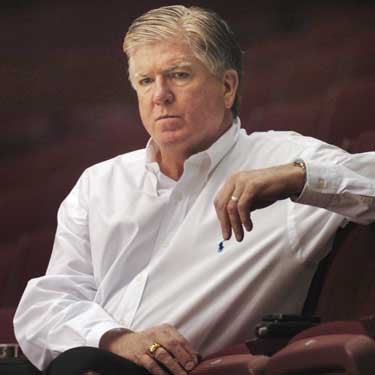 Starting today, the Toronto Maple Leafs can scratch "incompetent and/or old GM" off the list of reasons why they never win anything. Yes, in the least surprising news to come out of the NHL since Gary Bettman admitted he didn't know how to read or write, the Leafs announced that Brian Burke will take over for interim GM Cliff Fletcher, who will be staying on with the team as a consultant. Mr. Burke, let the superlatives fly:
''You're talking about the Vatican if you're Catholic, you're talking the centre of the hockey universe, you're talking about one of the most important jobs in hockey running the Toronto Maple Leafs,'' Burke said. ''It's a dream job.''
There is no questioning Burke's credentials, and he comes into a situation where things can't really get much worse. The question is whether his presence will change anything in business-as-usual Toronto, where decades of ownership futility have done nothing to diminish the city's lust for all things Leafs. And if you don't believe me, then you, my friend, have never bid against eighteen other diehards on eBay for a half-baggie of Wendel Clark's moustache trimmings.
Leafs introduce Burke as new President and General Manager [TSN]