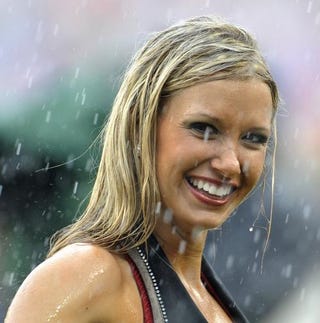 Chances are the weather sucks where you live right now. Rain, sleet or snow was a factor in five of the 1:00 games, and it's currently coming down hard in New England and New York. It also all but extinguished the playoff hopes of the Bills, Packers, Saints and maybe even the Redskins. Tampa Bay and Carolina didn't seem to mind it, though, as they each pulled out exciting wins to both move to 8-3 in the NFC South (with the Bucs holding the tie-breaker). But enough about the past, man - the future is now. Here's what's happening in the late games:
• Denver at Jets: Interesting start to this one: obsessed with proving he has a stronger arm than Brett Favre, Jay Cutler took the snap on the first play from scrimmage, and threw the ball clean out of the stadium. He seems to have settled down since then, hooking up with Eddie Royal for a 59-yard touchdown pass. Broncos lead the Jets 14-7 late in the first quarter.
• Pittsburgh at New England: Ah, Dan Dierdorf. Always good for a money quote: "Whatever 'it' is, it oozes out of Mike Tomlin." We'll take your word for it, Dan. New England up 7-3 in the first on a Sammy Morris touchdown.
• Atlanta at San Diego: A Tomlinson touchdown has the Chargers up 7-6 in the second. Hey! Don't count San Diego out of the AFC picture yet! Oh, alright, go ahead.
• Kansas City at Oakland: 3-3 in the second. Hey, someone has to win this one, right? What? They have ties in the NFL? Oh, Donovan is going to be pissed off at me...