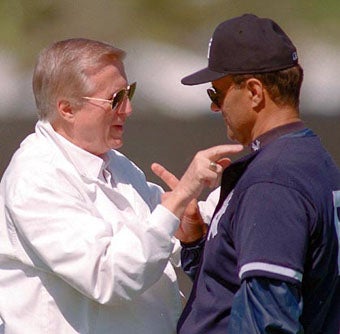 The New York Post managed to obtain an early copy of Joe Torre's soon to be released tell-all. The book, co-written by Tom Verducci, includes some fantastic characterizations of A-Rod.
In an explosive new book called "The Yankee Years," Torre gets most personal in his attacks against Alex Rodriguez, who he says was called "A-Fraud" by his teammates after he developed a "Single White Female"-like obsession with team captain Derek Jeter and asked for a personal clubhouse assistant to run errands for him.
Well of course he needed a personal clubhouse assistant. How could you expect him to perfectly emulate Derek Jeter's clothing, accessories, and mannerisms without a one?
Of course Torre is equally forthcoming when it comes to the topic of the Yankees nefarious front office.
The book also reveals that, during spring training in 1999, team doctors revealed to owner George Steinbrenner that Torre had prostate cancer - even before informing the manager himself.
Yeah, that's kind of fucked up.