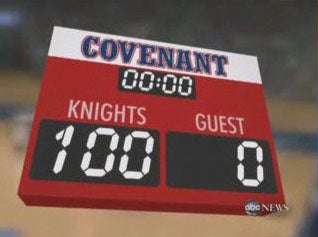 So the moral of the story, I guess, is if you're the winners of a 100-0 blowout, your coach gets fired. If you're the losers, you get to meet Diane Sawyer. Seems fair.
Never before has a girls high school basketball game caused such a fuss. Dallas Academy, which took the huge drubbing on Jan. 13, has become quite the media darlings — the Little Engine That Couldn't — and in fact are appearing on Good Morning America right about now. Meanwhile, the coach of the winning team, Covenant School, was just fired.
This past Thursday, Covenant school officials visited Dallas Academy — a school for students with learning disabilities which has only 20 girls — to apologize for the lopsided win. This did not sit well with Covenant's coach, Micah Grimes, who claims that his team has nothing to apologize for. Grimes posted the following on his own web site:
"I respectfully disagree with the apology, especially the notion that the Covenant School girls basketball team should feel 'embarrassed' or 'ashamed,' " part of the post says. "We played the game as it was meant to be played and would not intentionally run up the score on any opponent. Although a wide-margin victory is never evidence of compassion, my girls played with honor and integrity and showed respect to Dallas Academy."
That was posted on Sunday. By the end of the day, Grimes had been fired.
Meanwhile, the eight-member Dallas Academy team — which dropped out of the league following the 100-point loss — is in the midst of a whirlwind media tour.
Dallas Academy girls, portrayed as lovable losers on the court but winners in life for their attitude after the loss, have been showered with praise nationally. They've were on ABC and CBS network morning shows on Saturday and are scheduled to make a repeat appearance on ABC's Good Morning America on Monday as well as their Today show debut.
Oh, and Mark Cuban has invited the team to a Mavericks game. (From the Morning News comments section: "Why? So they can watch another team lose 100-0?").
Look for the movie coming soon starring, of course, Matthew McConaughey and Ellen Page.
Hat tip, by the way, to Lewp's Weblog, which brought this story to our attention and has been on it since the beginning.
Dear God, The 100-0 Beating Is Getting Larger Than Life [Lewp's Weblog]
Covenant Coach Who Beat Dallas Academy 100-0 Is Fired [Dallas Morning News]
Dallas Academy Bulldogs, 100-0 Losers, Gain National Attention [Dallas Morning News]