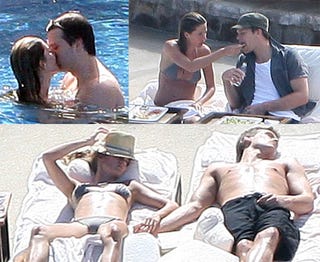 We've all wondered how Tom Brady will rebound next season given the condition of his knee and the looming threat of Matt Cassel. He looks positively...not worried whatsoever.
The photos, courtesy of PopSugar, show Tom and Gisele on a recent vacation to Mexico, where they spent some quality time lounging, cavorting and making out in a pool. There's still hope that Brady's hard at work rehabilitating his mangled knee and will be 100% before the start of the 2009 season.
He did tell WFAN last week that the rehab was going "really well." Pool exercises are good for rebuilding some of the atrophied muscles in his leg.
Tom Oils Up, Gisele Slips Into A Bikini For Romantic Weekend [Pop Sugar]