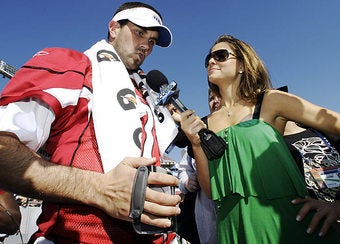 Matt Leinart's week in Tampa will mostly be spent answering how it feels to piss away an opportunity or being pestered by entertainment reporter Maria Menounos about party-hopping. But remember — he's a changed man.
The easy theory was that Ken Whisenhunt turned to Warner during the preseason because Leinart just wasn't mature enough to handle the job. Beer bong photos or not, his preseason performance, specifically the three interception game against Oakland, pretty much sealed his fate a as back up.
In every interview Leinart has done so far since losing his job, he's made it a point to assure everyone that this whole process has been a learning experience he can build upon and he's not bitter at all. He has to be tired of repeating himself so much.:
• The New York Times: "I think I've definitely grown up a lot the last couple of years. Everyone's made mistakes in their life. It just so happens my mistakes are out in the open. But you learn."
• Interview with Bill Plaschke at the LA Times: "I guess you can say all of this has made me grow up. I guess you can say I've learned."
• AP: "I've definitely grown up the last couple of years. I think it's because of my son, becoming a father, looking at life from a different perspective. It's been a humbling experience, it really has."
But one of the most telling observations about how Leinart is handling all this Super Bowl media drama comes from The Sporting Blog's Chris Mottram:
Not that he did anything that was intentionally funny, but seeing him wandering aimlessly amongst the sea of reporters was humorous. He basically got the same treatment as the back-up center. Even the punter Ben Graham had his own podium. Later, while sitting up in the stands near the end of the session, I overheard Tom Jackson and Chris Mortensen in front of me pondering what the most asked question of Leinart was. Jackon's was the winner: "What does it feel like to be drafted 10th overall, be considered the future of the franchise, and have to look up and see this old guy [Warner] getting all the attention?" Buuurn.
Yeah. That should still sting a little bit. Leinart has to blow off some steam at some point this week, right? He has the rest of his life to grow up.