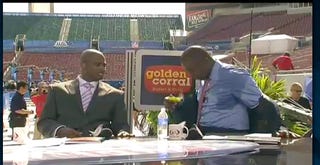 First day of Super Bowl media overkill has ended as has the usefulness of Marshall Faulk's shirt. Did he take too much 5-hour energy before hand or something?
Here's some more Faulk pit shots.
Imagine what some of the media people in worse shape looked like. In fact, let's go to Pro Football Weekly's Dan Arkush for his little Media Day notebook:
All of the sudden, none other than Chris Berman ESPN saunters up right next to me, sweating very profusely in a sportsjacket and tie. He looked a bit irritated that he couldn't get closer to LeBeau. He looks right at me. I look right at him and nod. "Having fun yet?" he says to me. "Oh, yeah," I say back before offering to switch places with him so he could get to LeBeau. "Nah, that's OK," he says graciously. Later I hear "Boomer" would get into a real spat with a producer over something or other. But in our exchange, he seemed like a decent fellow — who really seemed to be wishing he could be wearing shorts and a golf shirt like yours truly.
Yes. Just wait until later. I'm sure he has comfortable clothes packed.
Thank you for your continued support of Deadspin and On The DL with Dan Levy who provided the screen grab seen above. .