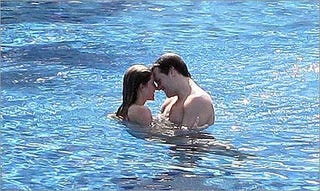 After photos of Tom Brady's romantic weekend surfaced on the web, many people pointed, laughed, and then moved on. Except Boston Globe writer Dan Shaughnessy. He seems permanently scarred.
The photo of Brady having a potato chip placed gently in his mouth by Gisele is one that might end up on the bulletin boards of opposing defensive teams next season, but it's definitely not the most emasculating photo that could surface. Ask Riley Skinner. Yet Shaughnessy is convinced this action alone is one that proves Brady isn't the man he thought he was. That he's "gone soft" and is no longer the iron-jawed, stoic leader of the Patriots Super Bowl dynasty.
Remember, people - this is a football player we're talking about. This is your quarterback. Think there's any photographic evidence of Johnny Unitas being spoon-fed? Bet Slingin' Sammy Baugh's wife never tried to sling any hash into his mouth.

Gisele was feeding him. Think of Tom Cruise jumping up and down on Oprah's couch. Think of Mike Dukakis in the tank. This was worse.

Ever see a high school player injured in the middle of the game and have his mother run onto the field to hover over him? That's what this is like. A guy might never recover.
Personally, I was little more creeped -out by the Stetson ad with him holding a baby lamb, but Shaughnessy said he was okay with that one. However a paparazzi photo of his quarterback getting fed? That's a deal breaker to the fuzzy-headed columnist.
It seems a bit extreme to compare a Brazilian super model spoon-feeding you on vacation to a "little boy eating mushy food spooned out of a Gerber jar" but that's something that can only be dissected by Shaughnessy's therapist. Most of the online readers seemed to disagree with the premise of the piece as well, defending their quarterback to no end and accusing Shaughnessy of being jealous, old, and ugly. Oh one person agreed with him. A commenter named "Fatman.":
Good story, brady is a washed up bum, ship him off to San Fran with the rest of the h*mo's.
That's a start.

The Hard Truth: He's Gone Soft [Boston.com]
Breakfast With The Hysterics [Mass Hysteria]