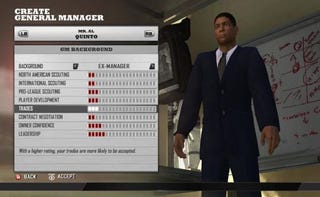 Because your child has always wanted to wear a sports coat and tie while playing video games, it's MLB Front Office Manager by 2K Sports!
Trade Manny Ramirez and Alyssa Milano for Joba Chamberlain. Sell your franchise to The Netherlands. Order Bronson Arroyo to wear the Mr. Redlegs costume. You can do it all with MLB Front Office Manager, the video game whose chief spokesman is, no surprise here, Oakland Athletics general manager Billy Beane.
By bringing in Beane as the game's celebrity spokesperson, 2K Sports is making a big bet that the baseball stat-heads out there will jump at the chance to impersonate Beane, instead of the more common video game proposition of taking on the role of big league players and swinging for the fences.

MLB Front Office Manager is all about trying to navigate the millions of little details that go into the operational side of running a baseball team. From scouting amateur players to drafting them to making trades to figuring out what to do when stars get injured to sucking it up after a losing season and trying again next year.
Unfortunately I can never find the sucking it up button until it's too late.
But my favorite part of the game is changing the toner in the copy machine because it's after 5 and everyone else in the office had gone home.
Billy Beane's Video Game Pitch: You, Too Can Be A Baseball GM [CNet News]